Key matchups, youth make NBA playoffs must-watch
Hang on for a minute...we're trying to find some more stories you might like.
Heading into this NBA season, many were speculating it would be non-competitive and predictable: the new-look Cavaliers roster would inevitably match up with the star-studded Warriors in the Finals for the fourth straight season, where Golden State would ruthlessly dominate… again.
However, this season has been anything but mediocre. With an injured Stephen Curry, who is reportedly missing the first-round of the playoffs, and LeBron James leading the least intimidating Cavs roster in recent memory, some are not as confident of a fourth Finals rematch.
Additionally, teams that had virtually no expectations to legitimately compete for a title have flipped the switch and have proved many wrong, having managed to land hard-earned playoff spots. Teams such as the Pelicans, who, even through losing star center Demarcus Cousins to a season-ending injury in late January, managed to miraculously land a playoff spot as the sixth seed in a loaded Western Conference. Instead, Anthony Davis has put the team on his back to get them there. Davis averaged 35 points per game and 13 rebounds per game during the month of February, becoming just the second player in league history to average such stats over that time. Likewise, with their first-round opponent, Damian Lillard and C.J. McCollum of the Trail Blazers have blossomed into one of the league's best backcourts. Predicted to have just another "alright" season, Lillard has posted All-NBA type numbers of 26.9 points per game and 6.6 assists per game to lead the Blazers to an impressive third seed in the West.
But perhaps most surprising, the Jazz seem to have turned the most heads this season. After losing All-Star forward Gordon Hayward to free-agency, the Jazz's playoff dreams seemed far-fetched. However, the team traded up and drafted rookie sensation Donovan Mitchell, who has completely revamped the team's energy and has become the Jazz's primary scorer. In fact, the argument can be made that the team is in the playoffs because of his seemingly effortless ability to take control of the game during crunch-time situations. Mitchell, who is playing at a much higher level than what is expected of a rookie, is currently in a neck-in-neck race with redshirted rookie Ben Simmons for the Rookie of the Year award.
Simmons averaged nearly a triple-double in just his first year playing. Along with All-Star center Joel Embiid, both have made a name for themselves as the league's next best young duo, finishing the season with a 16-game win streak heading into the playoffs. This helps propel the 76ers to the third seed in the East and places them in a good position to make a deep playoff run.
Speaking of streaks, the Timberwolves recently ended their dreaded 14-year playoff drought by clawing their way to the final playoff spot in the West, where they will face the number-one seeded, red-hot Rockets, led by the dynamic duo of leading MVP candidate James Harden and Chris Paul. Finishing with a league best 65-17, the pressure is on for the Rockets as their regular season success will mean nothing without a victorious trip to the Finals.
The same remarks can be said for the Raptors, who are the number one seed in the East and have a considerably easier path to the Finals. But will this team underperform in the postseason yet again? Will the Thunder's unpredictable Big-3 of Russell Westbrook, Paul George, and Carmelo Anthony get their act together in the playoffs?
With so many questions, storylines, and key matchups, this year's NBA playoffs has a chance to be quite memorable.   
About the Writer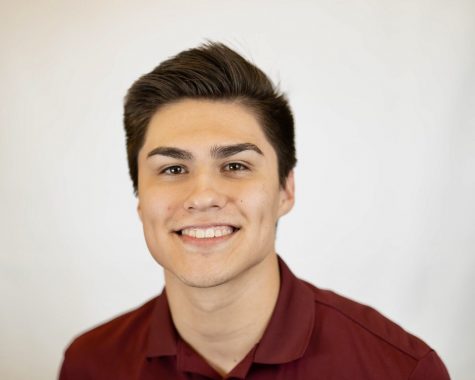 Adrian Gonzalez, Sports Editor
I am Adrian Gonzalez— Writing Major, with a concentration in Journalism & Digital Media with Communication minor and Sports Editor at Hilltop Views. This is my junior year at St. Edward's University. I have been involved with this organization since my freshman year, where I used my graphic design skills to contribute to page layouts. After changing my major to writing my sophomore year, I knew I could use my skills to become a weekly writer for the newspaper. Now, as an editor, I hope to share my knowledge with my fellow staff writers and continue to learn through the other section editors.