SEU hires 5th cross country head coach in school history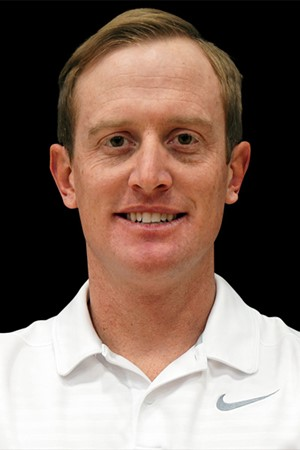 Last week, St. Edward's Athletics announced that they have hired Ryan Ponsonby as their new head Cross Country coach, who will be just the fifth head coach of the program in school history.
When Ponsonby first received word that he had been hired to obtain the new coaching position, he said that it was an exciting feeling and that he was ready to get to work.
"I was ecstatic, super excited about the opportunity," Ponsonby said. "For me, it's a dream come true to be able to further develop and work with young athletes like here at St. Edward's University."
Ponsonby has coached since 2006 and has worked with professional athletes in the Austin area. Living just four miles away it was not difficult for Ponsonby to hear about the job opening.
"I've followed St. Edward's University closely over the past 10 years. The running community is pretty tight-knit so I heard about it through the grapevine." Ponsonby said. "But it's a program that I've had my eye on and that I've followed for quite some time."
Knowing that he is just the university's fifth cross country head coach, Ponsonby understands the importance that this new position holds for the program.
"It's very important. Anytime you're a head coach at a program, that's a responsibility I take to heart. I know it's important to uphold the integrity of the university and athletics program," he said.
As for what he intends to do with the program moving forward, Ponsonby made it clear that he wants to see nothing but progress for the athletes and set a solid foundation for the program during his time as head coach.
"I'm excited to build. I can't wait to get in… I have big plans into building St. Edward's into something special within our sport. To me, it's a tremendous opportunity to build something," Ponsonby said.
Because this year's spring break came during the time of his hiring process, Ponsonby had to wait until classes resumed to formally meet the student athletes he will be working with. Ponsonby plans on having one-on-one meetings with each of the athletes to have a better understanding of their training, experiences, and personnel that he will be working with.
"That to me is of utmost importance because I need to know these student athletes on a personal level. I want to get to know them so I could work with them more effectively," Ponsonby said.
Individual meetings are just one of the steps that Ponsonby plans to go through. He is aware of how crucial it is to make a solid first impression in order to create a cohesive environment.
"As far as the standards to our program, I want complete commitment. The team is more important than any individual, but great individuals make a team. Communication and competitiveness… is what develops athletes and pushes them on a daily basis for success," Ponsonby said.
During his first few encounters with the campus, Ponsonby noted several aspects that stand out to him.
"If I could sum it up into one word, I would use 'family'. That is one of the most healthy cultures that I could work with. Very supportive group… and that tells me that I'm in the right position," said Ponsonby.
Success is another component that Ponsonby plans of achieving as head coach of the cross country program.
"Moving forward, we want to be competing at the conference championship every year and we want to start making a run at the national championships." Ponsonby said. "For me, it's about this 'happy marriage' of doing everything we possibly can to compete at the conference and national level while maintaining good academic standards."
One thing Ponsonby wants to make clear is establishing a culture and a distinct identity for the team.
"It's important to have fun and develop a culture of success around doing things the right way and having fun along the way."
"It truly is an exciting time," Ponsonby said, "I'm so thrilled, honored, and thankful for the trust that the administration has put in me to lead this program."