Lecture cancelled after students question Julie Bindel's comments on transgender people
Universities across the country have been facing backlash over their decisions to host or cancel speakers. Last week, St. Edward's University joined the national conversation by cancelling a talk by British feminist and political activist, Julie Bindel, based on views she had expressed about the transgender community.
Bindel was scheduled by the Social Justice LLC to speak about her book, "The Pimping of Prostitution: Abolishing the Sex Worker Myth" on Nov. 8. Bindel, a self-described radical feminist, is co-founder of the law reform group, Justice for Women. The group opposes violence against women and helps women who have been prosecuted for killing violent male partners.
Early on the scheduled day of her talk, Bindel said she received a call rescinding the invitation. Kris Sloan, associate professor of education and director of the Social Justice LLC, confirmed that it was ultimately his decision to cancel Bindel's appearance. She spoke at the University of Texas-Austin on Nov. 9.
"This was my decision, I made this call," Sloan said. "Was it right? I hope so. At the heart of my decision was the link to the living and learning, not just to the 96 students in that room, but the larger community and wanting to be good allies to the trans community and the gender non-conforming community on this campus."
Doing US book tour. Invited to a college by dept. head to talk about harms of sex trade. Queer ISIS trans cabal and allies bullied college into cancelling. This is not about *MY* free speech, just McCarthyite silencing of feminists who expose male violence and abuse.

— Julie Bindel (@bindelj) November 8, 2017
Concern from transgender student Marcus Kearns sparked the conversation about whether to host Bindel. Kearns Googled Bindel after Professor Laurie Heffron, who teaches the class Kearns is taking in the LLC,  announced the upcoming  lecture. He discovered articles Bindel had published that he considered to be transphobic, including a 2004 article in The Guardian entitled, "Gender benders, beware."
The article applauded a decision by the British Columbia Supreme Court that overturned an earlier legal decision that had awarded $7,500 to Kimberly Nixon, a trans woman, for injury to her dignity when she was denied the opportunity to train as a counselor of female rape victims.
The article provides an early glimpse into the unease and, in some cases, hostility, some feminists have that women's issues will be obscured by the trans rights movement. Bindel has apologized in the past for the tone of the piece.
Kearns quoted the following excerpt from Bindel's article as a source of his concern: "I don't have a problem with men disposing of their genitals, but it does not make them women, in the same way that shoving a bit of vacuum hose down your 501s does not make you a man," she wrote in the 2004 opinion piece.
Bindel told Hilltop Views that the decision to cancel her talk was made by "cowards"  whom she called "morally bankrupt."
"Everybody knows that I am no threat to trans people," Bindel said. "There is absolutely no way that this group of people, the bullies, have read anything that I've written or said that has warranted this response. This is merely a tactic to shut down the voice of feminists that protest against male violence."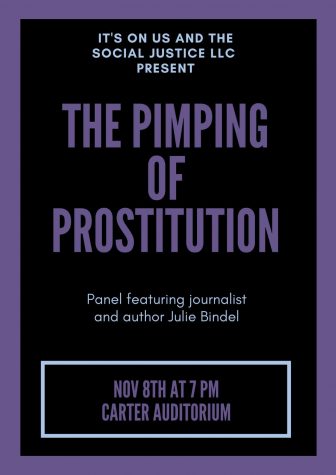 Kearns was glad that the event was cancelled.
"Am I happy it did get cancelled?" Kearns said of the talk. "Yes, but it wasn't my intention going in."
"That can have really bad effects on people when you trust a school to bring in voices that are going to help you grow but they instead bring someone who tears you down," he added. "If you're going to have controversy, it has to be grounded in mutual respect."
Kearns voiced his concerns to his resident assistant and to Dean of Students Steven Pinkenberg on Nov. 6. Late that afternoon Sloan was notified. He launched his own search into Bindel's statements. He said that he also emailed SEU Pride as well as a  number of transgender individuals, both students and friends, and asked faculty for their feedback on the situation and Bindel's articles. He then prepared a session for his Tuesday morning seminar. The information was also shared with the whole Social Justice LLC.
Sloan said he announced one caveat.
"The LLC is a living learning community and the 'C' is sacred in my mind," Sloan told Hilltop Views. "I reserved the right to cancel this on my own as director if I feel like the community will be harmed."
Veronica Carleton, who is Sloan's teaching assistant,  argued that Bindel should be allowed to speak, suggesting that hosting — and challenging —Bindel "is about protecting the transgender community."
"If she's an academic, someone who's informing people, and she's spreading views that are harmful, inaccurate, vitriolic, then she needs to be held accountable."
With the class split, Carleton suggested that LLC students prepare for Bindel's visit with written statements. One statement would declare solidarity with the transgender community on campus and the other would address Bindel's previous comments. She extended an open invitation for any of the students to gather and draft the statements.
David Weier, president of the campus LGBT group, Pride, attended the drafting session. He said he felt there was agreement that Bindel's views needed to be addressed and that there was a divide in the LLC about whether to bring Bindel to campus or cancel her lecture.
While the Social Justice LLC was figuring out  how to confront Bindel, Pride spent the next day, Nov. 7,  gauging reactions from LGBT community members, specifically transgender community members.
Pride shared the input they received with Sloan, which was that their "community doesn't feel comfortable with (Bindel) speaking on campus," the group's Vice President, Bianca Salinas, said.
"
Bindel told Hilltop Views that the decision to cancel her talk was made by "cowards"  whom she called "morally bankrupt.""
After considering feedback from the class, Pride, linked faculty, and a number of transgender individuals, Sloan made the final decision to cancel the event early Wednesday morning.
Citing Bindel's confrontational tendencies and the risk to the community as major reasons, Sloan said that there was "no real value" to come of hosting her and that it wouldn't "be a productive use of our time."
Carleton expressed frustration that in cancelling Bindel's appearance, St. Edward's had, in effect, turned over the narrative to her.
"If the cisgender community held her accountable, we wouldn't change her mind," Carleton said. "But we would have control of the narrative and we would be able to say that the cisgender community at St. Edward's stood up to her."