SEU rowing is headed for their first fall regatta at Baylor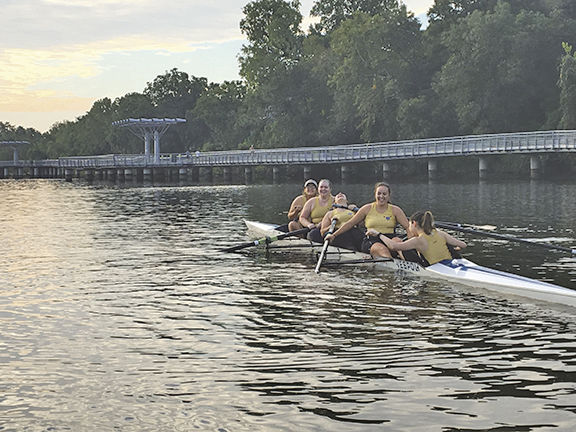 A coach that assisted on a volunteer basis, a former member still being reimbursed for purchasing boats and a team that drives off campus for early morning practices at 5:15 a.m. is only a fraction of the sacrifices those involved in the rowing team have made.
After more than a decade of the introduction of a rowing team to St. Edward's some students are still unaware that they exist. This has made recruitment and fundraising efforts through Rec Fest and bake sales all the more urgent, especially considering boats typically run tens of thousands of dollars.
All current members have either no experience with rowing or joined the team just last year, including Vice President Pamela Horton.
Becoming a member shortly after transferring to the university last year, she said being a member helped with her transition to life on campus.
Her position is as the only varsity coxswain, whose role it is to steer the boat and "be encouraging over a microphone." Horton said she really grew as a coxswain last year because a teammate went over plans and strategized with her outside of practice time.
The payoff for those extra hours came when Horton's boat earned a silver at a regatta last year. "We were just in the zone at that regatta," Horton said. "That was my first medal so it was very special."
Throughout that training former Coach Drohan, would leave work late at night, sleep for a few hours, then head to Lady Bird Lake for the early morning weekend practice.
Coaching the team for nearly a year, Drohan left for a job in Fort Worth last month. Accustomed to taking part in the sport for years as a member of his college team, he has considered continuing coaching in the Dallas-Ft. Worth area.
A rower in Horton's boat, sophomore Catarina Benevides joined last semester after walking by the crew's table at involvement fair. Looking for an outlet to channel excess energy, Benevides felt somewhat prepared to join.
"I think a lot of people think that they can't do it and honestly you just get used to it," Benevides said. "Coming back the first week was so nice, that first stroke, it just feels like you haven't been breathing. You can't do this without loving it, otherwise you wouldn't do it."
Warm ups and drills take up a portion of their practice schedule, but the team also enjoys racing each other. Following a race with a large gap in between the two boats, one member said, "we sucked."
"I try to focus on the positive aspects, so I try to go over what they did well," Drohan said. "I'll typically ask, how'd it go and they'll say bad. Why was it bad? Helping them get to that same conclusion I am is helpful."
The difference in speed is evident since members are placed in boats based on split times. Those with split times that lead to a speedier race tend to perform better. Even then, the team isn't overfraught with competitiveness towards one another.
"Most of my friends are in crew," Horton said. "It's a family that we've made for ourselves."
Known as Head of the Brazos, Baylor University is hosting a 5,000 meter head race that crew will take part in this weekend as their first fall regatta.