An open letter to President Martin concerning DACA
An open letter to President Martin:
First off, I want to express my sincerest gratitude for your support of Deferred Action for Childhood Arrivals (DACA) and all of our friends who benefit from it. I can't say that I can even fathom the difficulty of taking a stance under all the scrutiny that comes with your position because even you, the president of the university, have bosses to appease.
It must have taken a sheer amount of courage, but more than that, a greater commitment to our Holy Cross mission to confront the critical issues of society, seek justice and recognize the dignity of each person with the rights to education that come along with it.
In this letter, I will ask for one more act of courage and commitment.
I am afraid to say that your statement, while affirming and necessary, is not enough. I know it is not enough because of the question that recently came up at an event concerning DACA and what's next. The Q&A portion of an event can be a bit of a wild card sometimes and, as one of the event organizers, we prepared for the worst. But this question caught everyone by surprise, not because of its inquiry but because of who was posing it.
During this Q&A, a professor raised their hand and asked how they might protect their DACA students if, in a worst case scenario, an Immigration and Customs Enforcement (ICE) agent entered the classroom.
It's a terrifying prospect to imagine, made even worse by the fact that this professor, like many others, have not received proper instructions on what actions to take in this situation. How can we as students be assured by our instructors when they themselves have yet to be instructed on what to do? It is one thing to know what we believe in and what we stand for, and another thing to know how to act on it.
I am urging you to speak on some action plan for protecting our DACA friends, not because I am pushing a political agenda and not because I want to be demanding. I am urging you to speak out because there is still confusion, and we still need more guidance. I am urging you to speak out because this kind of push is and has always been the only way things happen.
Over the last week since President Trump rescinded DACA, I have been reminded time and time again that Obama did not just wake up one day and decide to create DACA. He was pressured to by the action of ordinary people. The calls of constituents, the rallies and protests at the steps of local and state governments across the country, the outcry of undocumented immigrants and their allies pouring out of the closets and into the streets, becoming visible.
And these same actions today continue to push back against the rescinding of DACA while pushing forward for a real path to citizenship. So, my action in this letter is to push you further to tell our community how we can protect our DACA friends.
Let me make it clear: I am proud of where our university stands. We support our DACA friends and their right to pursue a more just existence.
But this is more than an ideological issue and will require more than an ideological response. We need to know how these beliefs translate to real-world action for each member of the community.
About the Contributor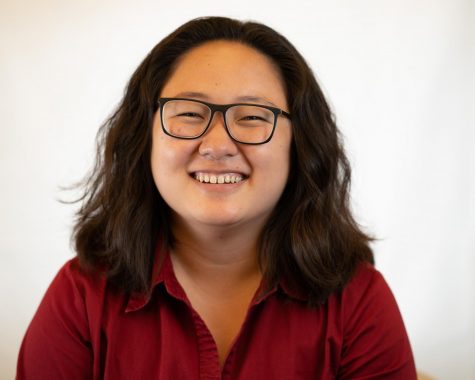 Lilli Hime, Staff Writer
I am Lilli Hime—English Writing and Rhetoric major and freelance writer at Hilltop Views. This is my senior year at St. Edward's University.

My role...