'Parks and Recreations' fans flock to expressive art exhibit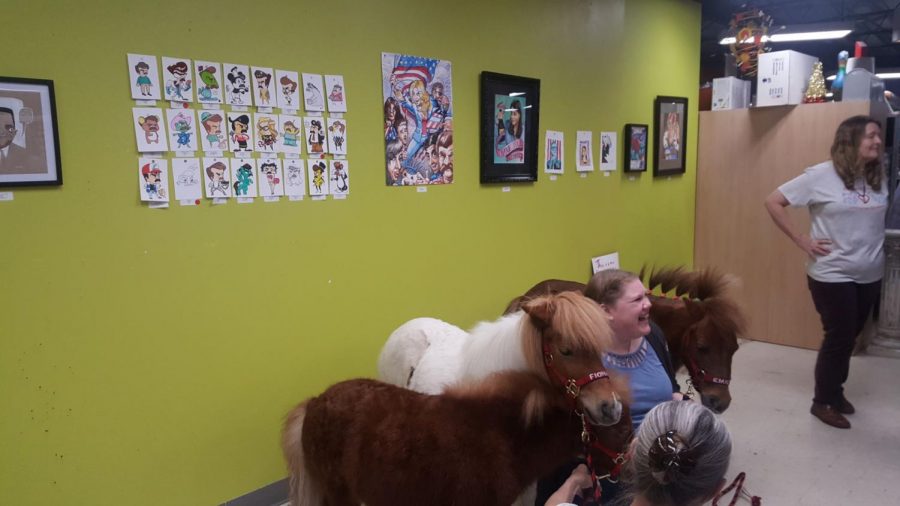 @elitheplatypus
February 13, 2017
Calling all Parks and Rec fans! Jerry's Artarama has its doors open during February to showcase art pieces in tribute to the beloved comedy, "Parks and Recreation."
The show had its premiere on Friday, February 3 featuring over 20 artists paying homage to the television show along with three mini-horses resembling the show's cherished character, Li'l Sebastian. Mini waffles with bacon will also be in attendance for observers to enjoy.
With an opening audience of around 50 people, the show presented various painted pieces ranging from Ron Swanson mashups of different movie and TV characters to Duke Silver album covers and Burt Macklin and Janet Snakehole cover art.
One of the creators of the show, Elisa Wickey, attributed Ron Swanson mashups as the beginning of it all.
Wickey said she used to attend comic conventions and was offered commissions; however, because of her nervousness, Wickey decided to draw only one thing: Ron Swanson.
"So, I would draw you anything you want as long as it was Ron Swanson," Wickey said, "And it turned into this year-long project on Swanson mashups where I drew a new mashup every day for a year."
Wickey then met Hansel Moreno who put on an art show in San Antonio, "Cute & Rude." With Moreno's experience, Wickey asked for his help to put on a Parks and Rec show to commemorate the show's success.
Wickey and Moreno felt Jerry's Artarama was a fitting venue as the name "Jerry's" references a widely teased character, Jerry Gergich.
The show's "Li'l Sebastian's" came from "Minis and Friends," a non-profit organization dedicated to the love of miniature horses and their emotional support impact for children with disabilities and at-risk youth.
While the show took a lot of work, Morales and Wickey were satisfied with the result.
"It's a learning experience," Moreno said. "I'm glad this show came together."
The standing art will be available for viewing for a month, with some pieces up for sale to the public.