Alumni basketball players relive glory days during homecoming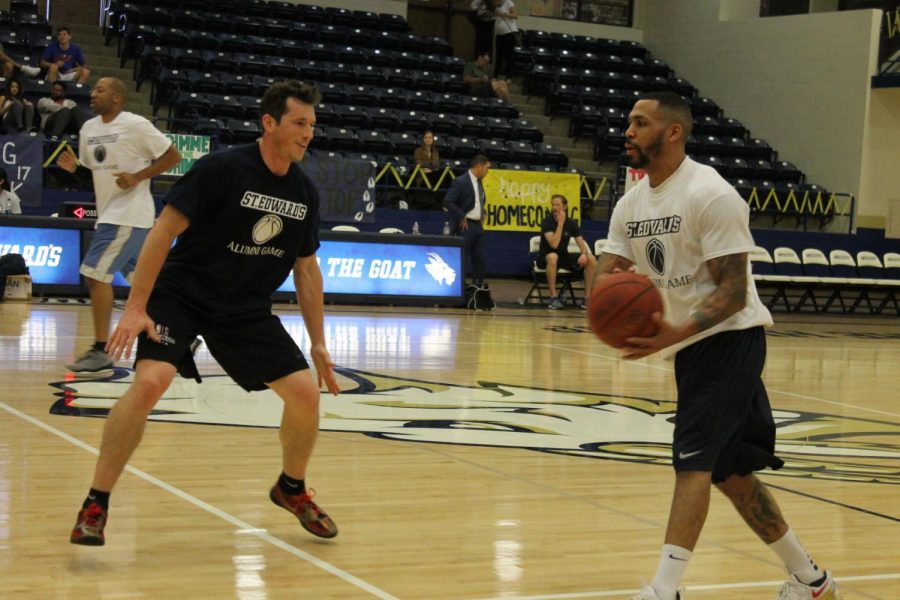 Amanda Gonzalez
February 20, 2017
"Tiring" was the word 2006 graduate Brandon Foskey jokingly used to describe the fifth annual Men's Basketball Alumni Game.
The returning basketball players' collegiate careers took place between 2002-2016, and they came together for a fun, yet competitive game on Homecoming and Family Weekend.
The Feb. 18 matchup was the fifth annual Alumni Game, and ended with a 96-86 score.
This game may have featured more turnovers and missed shots than your average college game would, but there were a lot of laughs.
"I realized I'm definitely out of shape, but it's always good to see the guys and watch some of the younger guys play," Foskey said.
Volunteer Assistant Coach Cooper Land watched from the bleachers and laughed every time there was an air ball or someone looked a little out of breath. He mostly mocked his older brother Taylor Land, who graduated in 2009 and is now the team's assistant coach.
Taylor played on the victorious blue team alongside former teammates Foskey, who works in real estate, and Daniel Pierre, who graduated in 2008, and is now a paralegal for the Department of Public Safety.
"I try to make it out to the homecoming game every year," Pierre said. "It's good to relive my college time here. St. Edward's welcomes me with open arms."
Pierre acknowledged that St. Edward's does "a great job staying in contact" with alumni once they graduate.
After graduating from St. Edward's, several of the returning hoopsters played professional basketball overseas in Germany, Denmark and Australia.
The defeated white team featured several younger players like John Rutherford, who graduated in 2015, and the most recent alumni Frank Mgbolu and Trey Lindsey, who both graduated in 2016.
"Coming for the alumni game is cool, because I've gotten to see some of the older guys who I played ball with," said Rutherford, who has recently applied to the Austin Police Department. "It's also cool seeing the younger guys, and who's in charge of the program now."
Lindsey never left St. Edward's, as he is now serving as the graduate assistant coach.
After the alumni game, the Land brothers and Lindsey put on their suits and ties, and later watched the current men's basketball team secure a convincing 91-71 win over Rogers State University.
"Coach [Andre] Cook is doing a great job," Foskey said. "He's really turned the program around, so it's always fun to come out and watch a game."