St. Edward's women's basketball atop conference standings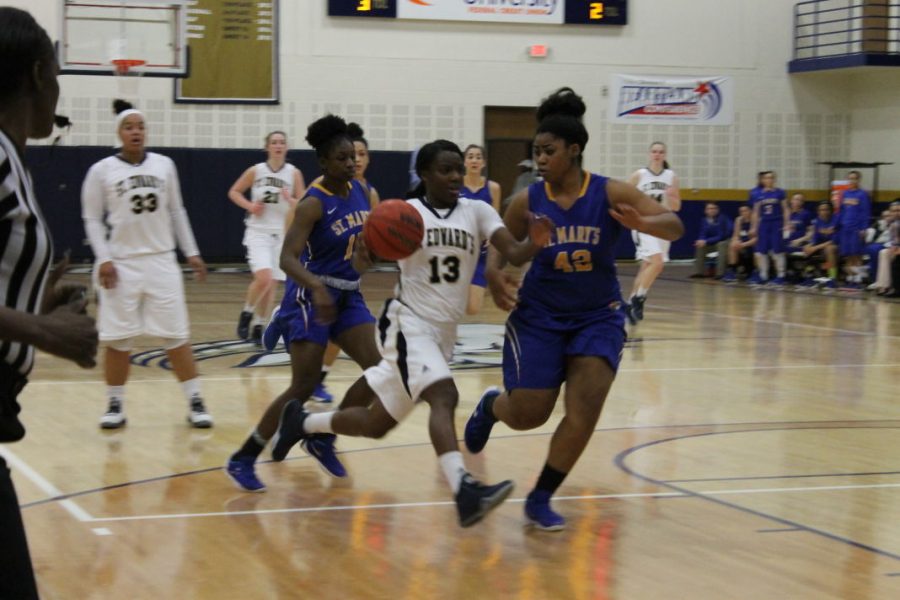 Amanda Gonzalez
February 6, 2017
Standing alone atop the Heartland Conference standings is St. Edward's University with a 10-1 record. 
Since Dec. 3, the women's basketball team has won 13 of 14 games.
"I feel like everyone comes out to play, even when their name is called off the bench," senior point guard Shakera Barnes said, acknoledging how proud she is of her fellow seniors' leadership style on the court.
This is the first time the program has reached this number of consistent wins under Head Coach J.J. Riehl, a home-grown product of St. Edward's who has served as head coach for five seasons.
Riehl played in a Hilltoppers jersey from 1998-2000, and holds the school's all-time best three-point field goal percentage of .367 and accumulated 244 assists.
On Jan. 28, Barnes surpassed her coach with career assist No. 245. Despite only a year in a half in a blue and gold uniform, Barnes has etched her name in the SEU record books.
"In her defense, she was a shooting guard, not a point guard," Barnes joked about Riehl's former playing position. "But I'll take it. It's pretty cool to have made this many assists in this little of time, and to have my name in the SEU record book."
After the milestone game, Riehl told SEU Athletics, "I will gladly move down a spot for her. Not just playing, but just character and the type of kid, I mean she deserves every bit of recognition she gets."
Barnes says the team has been dominantly consistent in shooting, and remaining energetic in the second half of each game for the past two months.
"We've been doing the little things right," Barnes said. "We're moving around the ball, pushing the ball on fast breaks and just taking the best shots possible."
Since the Hilltoppers have been sharper offensively, opposing teams have changed their defensive approach from how they played in the first half of the season.
"In the first round, most teams played us man-to-man," Barnes said. "Starting the second round, most teams are starting to throw a lot of zones at us, trying to get us off our rhythm."
With only five regular season games left, the team will have a two-game road series before returning to St. Edward's during Homecoming Week. Saturday's Battle of the Saints away game will be crucial for the No. 1 Hilltoppers because No. 2 St. Mary's University is 9-2.
"Every team comes at us with their best, so we can't have any down time," Barnes said. "One of our biggest keys to winning a lot of games is rebounding – both offensively and defensively."
For now, the team's goals are to continue their winning streak, win the conference title, win the conference tournament championship and reach a NCAA Tournament appearance in the playoffs.
"We started off pretty rough, but we got going in November and December definitely," Barnes said. "We noticed how much potential we had, but the crazy thing is we're not even at our highest right now. We're hoping we'll go further, but we're taking it one step at a time."