Students weary as Hurricane Florence tears through East Coast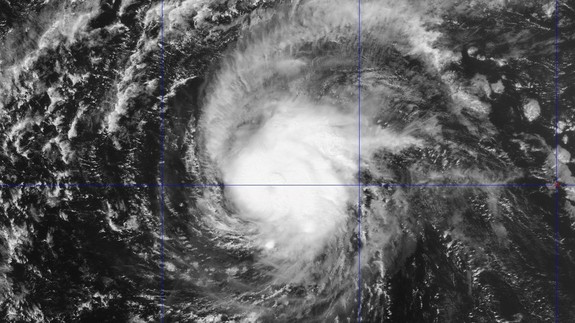 Reilly Cardillo, Staff Writer
September 17, 2018
Hurricane Florence made landfall Friday, Sept. 14, pummeling the North and South Carolina coastlines with heavy rain, leaving dozens stranded and at least 25 dead at the time of this publication. The slow-churning 400-mile-wide storm is expected to roll up and down the coast for the remainder of the weekend.
Local authorities estimate that around 355,360 citizens are without power as of Monday. As the rain rages, that number is only expected to climb.
Junior Laurel Salem, who hails from Charlotte, North Carolina, feels as though her family is prepared for the storm. "We are originally from south Florida so we experienced the hurricane season several times," Salem said. "My parents lost power today and it's been raining a lot, but they haven't been majorly affected."
The North Carolina government has issued a mandatory evacuation of the coastline, but some residents have refused to leave. Rescue attempts began early Friday morning and will continue through the weekend as needed.
North Carolina Gov. Roy Cooper pleaded with his constituents to follow evacuation mandates on Thursday as the rain began to bear down. He's well aware that the rescue efforts are just beginning.
"Flooding and the storm surge — those are the two main things that kill people, and this storm is not letting up," Cooper told WTVD in Raleigh.
The worst Texas is expected to get is just more heavy rainfall over the next week or so. However, these downpours have some students experiencing a harrowing deja vu— a visceral throwback to last year's stressful entrance into the fall semester, Hurricane Harvey.
Junior Jordyn Walker was among those affected. "My whole house flooded and had to be gutted and refurbished," she said. "It felt like we'd just finished rebuilding from the last floods when this happened."
St. Edward's University faculty treated the situation on a case by case basis, some pushing back quizzes and projects meant to kick off in the first week. Others restructured their absence policies in order to protect students affected by Hurricane Harvey.
Though the situation on the East Coast is ongoing, conditions were expected to be much worse as forecasters watched Florence barrel through the Atlantic earlier that week.
Initially clocked as a category four, the hurricane has since been downgraded to a category one, meaning the maximum winds decreased from roughly 150 mph to roughly 90 mph.
Once making official landfall, winds decreased even more, reaching an approximate baseline of 75 mph by early Friday afternoon. This is standard behavior for hurricanes according to the National Hurricane Center, as the phenomenon runs out of steam as it moves inland.
With other tropical storms brewing in the Atlantic and the Gulf, formal plans and policy regarding future university response to hurricanes may be imminent.