Every rose has it's thorns, and so does Netflix's 'The House of Flowers'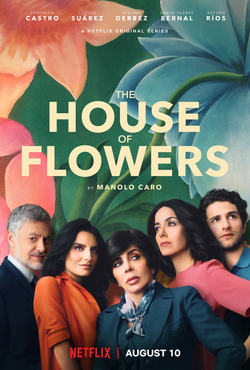 Netflix has delivered shows with diverse characters revolving around LGBTQ+ storylines like "Sense8," "Orange is the New Black" and "Black Mirror." Now joining this melting pot is "The House of Flowers," a Spanish series that dominates with aesthetically-pleasing pastels, views of Mexico City and several secrets.
The title in Spanish is "La Casa de Las Flores," and while it might not be obvious, this show dives into the life of a rich Mexican family, their flower shop and a hidden cabaret owned by a mistress. Revelations unfold after a suicide, and the main character, Virginia de la Mora (Veronica Castro), begins to see the collapse of her seemingly perfect family.
Telenovelas are mostly comprised of traditional love stories with the main actress's involvement in a series of predictable events. Typically, your mom and aunts get so hooked to the television that they're unaware of a fire happening in the kitchen.
"La Casa De Las Flores," however, does something different. Manolo Caro, the 33-year-old creator of the show, touches on subjects that would probably make traditional Latino parents uncomfortable. Topics and issues around bisexuality, being transgender, monogamy, saving face and being perfect are all brought up. This comes from the perspective of a traditional mother who only wants the best for her family, but is having trouble adjusting to a new world.
Once you start the show, you will unknowingly begin to like the character you thought you wouldn't, and the plot goes from zero to 100. Before you know it, you've become your mom and aunt as excitement takes over. This show strays from the typical telenovela plotline, and a character needing saving isn't the focus.
Unfortunately, the translated subtitles are not the most accurate, but they get the job done. Much of the slang throughout doesn't fit the text shown, but regardless, it makes for great practice of Spanish pronunciation.
If fashion sense is important to you, this is the show you need to binge. As fall approaches, this show's iconic outfits will surely inspire your wardrobe.
If you need your fill of drag queen performances, grab your wig and hop on the couch, because these ladies will snatch it up.
If you came to see a love story, turn around, because the De La Mora family came to show you the heartbreak that comes from secrets along with the hardships that come from Latino LGBTQ families as traditional values and love intertwine.
"La Casa De Las Flores" challenges tradition that still seems to be a barrier for Latino LGBTQ in Mexico and communities in the U.S. While it may not be ideal for some, this show could be the one to start with family who might be scared of straying away from their values.