Acting, LGBTQ nuances fall short in 'Lez Bomb'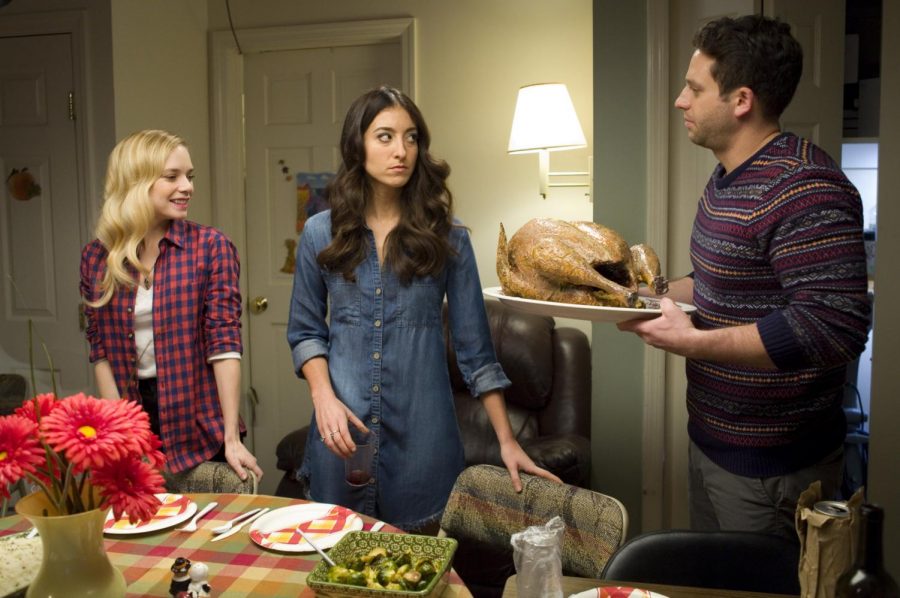 Precious Parker, Writer
October 1, 2018
Lez Bomb flips the conventional heteronormative role on its head by centering a film around the lesbian identity. The feature film comes from executive producer Bobby Farrelly starring Cloris Leachman, Bruce Dern, Kevin Polluck, Steven Gutterberg and the director and writer herself– Jenna Laurenzo .
The comedy follows a closeted Lauren (Jenna Laurenzo) as she works up the courage to come out to her family during Thanksgiving. She brings along her beloved girlfriend, Hailey, a loud blonde, for the big announcement. However, her plans are delayed when her long time roommate and friend, Austin, appears to dinner. Her parents are then convinced they are dating.
The film was one of the more anticipated films at the aGLIFF festival, but unfortunately it fell short. Sadly, I was only able to muster a few chuckles. At many points, the actors seemed to be over-acting to get laughs.
The father's role seemed too stereotypical. He threatens to kill the male love interest and continues to badger him even though Lauren has no interest in men. Regardless of its stereotypes, this is the first time I've seen a film focused on a lesbian protagonist partaking and living normal lives that normalizes non-heteronormative experience and identities.
There is familiar chemistry between Lauren and her mother, Rose (Deirdre O'Connell). O'Connell reminds us of our own mothers during Thanksgiving as she commands the kitchen, perfecting all the dishes and throwing orders left and right. Their relationship is sometimes tense because Rose didn't believe that Lauren wanted to be open with her. Lauren fears her mother's reaction to things regarding her love life and more importantly her sexaulity. They clearly love each other but struggle to find the best way to communicate with each other. Lorenzo is able to reflect these emotions with accuracy due to her incredible cast.
Lauren is faced with mounting frustrations from her girlfriend who starts to question Lauren's commitment as Lauren tries to find the opportune moment to tell her parents. Hailey, played by Caitlin Mehner, seemed very pushy and unforgiving.
Coming out can be a scary and exciting moment. And for some, it can mean isolation and exclusion from family members or even violence. This makes Lauren's anxiety, fear and hesitation is all too as she tries to deliver the news to her family with her girlfriend failing to give support.
As a person who is very open about their sexuality, it can be frustrating to see someone continue to be vague and avert to coming out. It may be even more taxing if you're the person's partner. While this is understandable it is not excusable, which made Hailey's impatience more stressful and shameful for Lauren.
With Lez Bomb, we are able to reimagine a new reality that cinema has been reluctant to present– a reality that normalizes non-heteronormative experience and identities.