COMMENTARY: NFL needs to appropriately punish Patriots owner for recent sex solicitation charge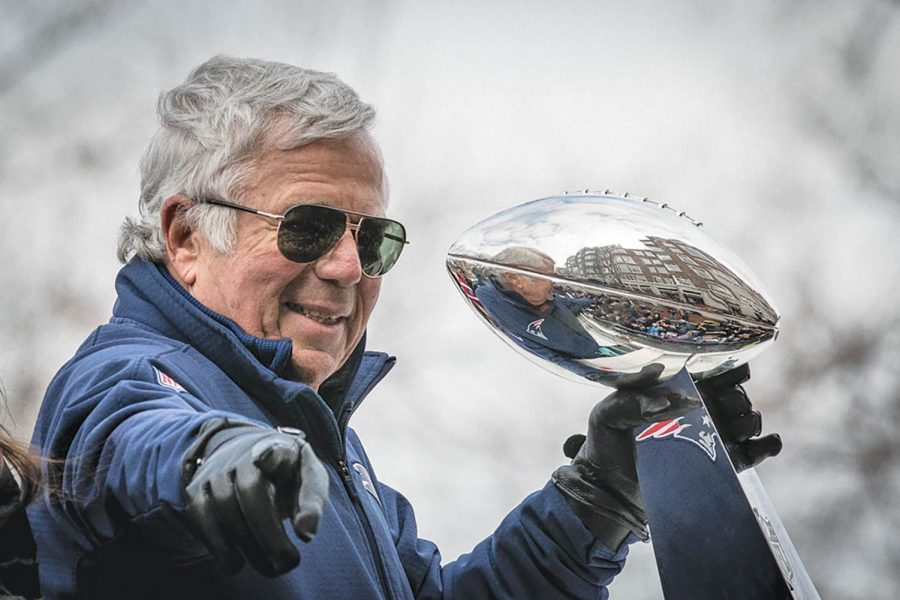 Denique Williams, Staff Writer
March 4, 2019
All eyes are on New England Patriots owner, Robert Kraft, these days. After his team brought home yet another Vince Lombardi trophy this past Super Bowl, it seemed as if Kraft was untouchable and successfully set up to be the NFL's new favorite son.
However, all that changed in the blink of an eye was  a bust on a Florida prostitution ring in which Kraft was caught on video twice soliciting for sex. The 77-year-old billionaire was  charged with two counts of a first degree misdemeanor for soliciting sex.
If convicted, he could face up to one year in jail, pay a $5,000 fine, perform 100 hours of community service and go to a class on the harm of human trafficking. To the NFL franchise owning billionaire, this amounts to a little more than some public humiliation and a slap on the wrist.
The real question is: what is the NFL going to do about it? There is no way for the NFL to escape this issue, and if they don't do something about it, the league will be revealed to be the boys club that many suspect it being. The NFL has a long history of protecting their brand and combating the boys club stigma that is growing to be true.
Kraft has now done some damage to the league's image, and football enthusiasts are wondering how NFL Commissioner Roger Goodell can properly punish him.
Goodell is placed in an awkward position because he is technically hired by NFL team owners, including Kraft. This makes the employee the disciplinarian of the employer. Even if Kraft was let off the hook by Florida authorities, according to the NFL official personal conduct policy, Goodell would still have no choice but to find some way to punish Kraft as the policy states: "It is not enough simply to avoid being found guilty of a crime."
As of now, the NFL promises to take the "appropriate action" ,  but as to what that means exactly, no one, perhaps not even Goodell himself, is sure. Goodell has punished team owners before, as in the case of former Carolina Panthers owner Jerry Richardson for the "workplace misconduct" of sexually harassing three female employees and using a racial slur against a team scout.
However, many found a $2.75 million fine a lax response to three separate allegations of sexual harassment and the use of racial slurs. This raises the question of what the appropriate response should be.
One thing is certain, though: the NFl official conduct policy states, " Ownership and club or league management have traditionally been held to a higher standard and will be subject to more significant discipline when violations of the Personal Conduct Policy occur."
For football's sake, hopefully, this equates to more than just an angry finger-wag and public tongue lashing.