Phillies sign biggest free agent on the market to top-off their productive offseason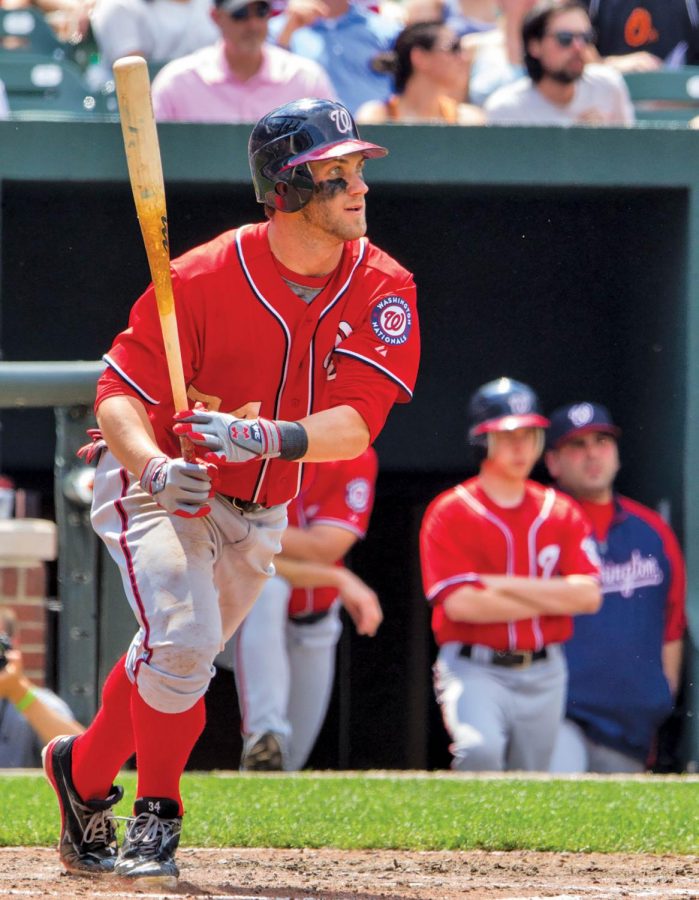 Frank Bilancio, Sports Writer
March 4, 2019
Bryce Harper has found a home and that home is the city of Brotherly Love. The star outfielder and the Philadelphia Phillies reached an agreement on a 13 year $330 million contract, making it the largest contract in Major League Baseball history.
This deal has ultimately made the Phillies one of the biggest winners of the offseason. In addition to Harper, they added All-Star shortstop Jean Segura, catcher J.T. Realmuto and relief pitcher David Robertson. Another highlight of the Phillies offseason was inking 2013 NL MVP Andrew McCutchen while also extending their ace starting pitcher Aaron Nola.
The biggest highlight this offseason for the Phillies was without a doubt signing Harper. The 2015 NL MVP and six-time All-Star was arguably the biggest free-agent on the open market besides Manny Machado.
26 year-old Harper  enters this season starting off his athletic prime, and the Phillies are more than happy to pencil him into the three hole in an already loaded lineup. Despite his star power, Harper took  a step back defensively last year. His defense was highly talked about in terms of how that would factor into the contract he received this offseason.
Harper's minus 26 defensive runs saved in 2018 was an awful. , This could be a result of Harper playing centerfield more than he ever has in years past. The Phillies, though, didn't seem to mind shelling out for the superstar, and they are more than happy that he will be roaming right field for the next 13 years.  
The trade for Segura was a very under the radar move for the Phillies this offseason. Segura is a two-time All-Star and coming off a third consecutive .300+ batting average season, he is an upgrade defensively for  the shortstop position. The big deal for this trade was who the Phillies traded to the Seattle Mariners; they chose to send Carlos Santana (still owing $35 of $60 million) to clear up cap space, allowing the Phillies to make another significant move.
McCutchen was added this offseason to an already solid lineup. This move is also a good get for the Phillies from a veteran point of view. McCutchen will be a huge leader to a relatively young team, so having a guy with his experience can help this team mentally, while still performing on at an above average level.
The move for Jacob Tyler Realmuto was the the steal of the offseason, as the catcher is viewed today as "a unicorn" for his unique skill set. Right now, Realmuto is the best catcher in baseball and comes to the Phillies at a dirt cheap $5.9 million this year, and he is still under team control next season. Earning his first All-Star selection and Silver Slugger has shown that every year his power numbers seemingly keep climbing, as shown in his slugging percentage with  a career high of .484. Realmuto also is a stud behind the dish, as he has thrown out an absurd 38% of would be baserunners.
Overall, the Phillies got a whole lot better this offseason and will open as favorites to win the NL East. With the roster they have assembled, fans can anticipate seeing this team in a World Series within the next three to four years.