Gentrification pushes low-income people of color out of homes
Gentrification is something that is unknown to many, and to many others, it is often overlooked. Since 2007, the searching of the word "gentrification" on Google has more than doubled. The term has also appeared in more headlines and news stories as the years go by.
The Urban Displacement Project defines gentrification as the process of neighborhood change that includes economic change in a historically disinvested neighborhood– by means of real estate investment and new higher-income residents moving in– as well as demographic change– not only in terms of income level, but also in terms of changes in the education level or racial make-up of residents.
Gentrification creeps up on local neighborhoods and can show up in many different forms. A changing food landscape is one of the easiest ways to spot gentrification. While that new vegan restaurant downtown is good for the environment, its high prices are raising the rent for surrounding business that have been around for decades.
Another sign that a neighborhood is being gentrified is an increase in police. When wealthier and whiter residents move into historically poor neighborhoods, police reports increase dramatically. According to the Seattle Police Department, there has been an increase from 1,973 police reports in 2008 to 3,206 reports in 2016.
This is because new residents don't feel safe in their new home. People of color are criminalized as a result of these unjust and frankly racist feelings. People of color have lived in and supported their communities so they shouldn't be cast out as criminals when the newer, wealthier residents are the ones terrorizing them.
While many argue that the increase of Whole Foods and coffee and bike shop hybrids in their neighborhood is a good thing, new and trendy advancements are actually displacing Austin natives– especially people of color.
According to a study conducted by UT Austin in 2018, the groups that are most impacted by gentrification are low-income Black and Hispanic communities. Many of these people have lived in the United States for a very long time, but still face cultural, societal and maybe even language barriers. This puts them at a disadvantage against large competitors such as real estate companies and developers.
Not only do individuals suffer, but their sources of income is put at stake as well. Gentrification causes local businesses to suffer and likely lose their business. New spots open and solely cater to the wealthier residents, which further strains the local community.
To make matters worse, schools begin to suffer as gentrification progresses. Schools begin to improve as the increase in capital comes in, but only few minority children stick around to enjoy it. Gentrification isn't only kicking out adults; it affects everyone.
Austin locals should not be subjected to this type of treatment. Austin isn't characterized by its fancy restaurants or vintage boutiques with quirky names, it is characterized by the diversity of its people and all the culture that they contribute. If this isn't the case, it definitely should be.
View Comments (1)
About the Contributor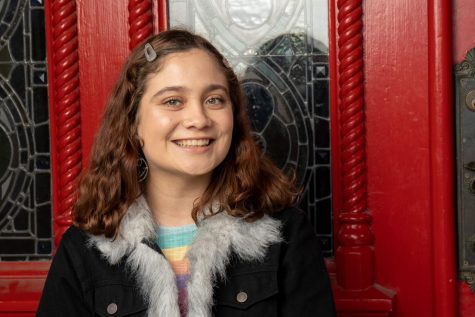 Sammy Jo Cienfuegos, Viewpoints Editor


Hey ya'll! My name is Sammy Jo Cienfuegos and I'm one of the two Viewpoints editors. I'm a senior Writing and Rhetoric major, with an emphasis in Creative...