Through its challenges, St. Edward's rowing offers community based around diligence, dedication
There's something euphoric that can come from watching an early morning sunrise. The chilliness of the night slowly blending into the warmth of a bright pink and orange Austin skyline seems like a natural moment worth cherishing in the moment.
Now, imagine soaking in the beauty of dawn breaking from the calmness of a crystal blue lake as earthy, mossy air brushing through your face. This is the gorgeous phenomenon that the St. Edward's University rowing club get to experience on a near daily basis as the mellowness of Lady Bird lake comforts them through an intensive rowing practice.
That's both the beauty and the struggle that rowing crew's president Jeffrey Tyrrel, as well as the rest of the nine-member team, experience every other day in their quest to be one of the most recognized collegiate rowing teams in the nation.
Though it takes completely committed individuals with a synchronized work ethic to strive for a specific goal, Tyrrel believes that the team he has is capable of great things through the bond they have created.
"I love being able to show up to an organization where we can help people either find a community to be a part of and an athletic program. They can kind of make it whatever they want, which is the great thing about rowing," Tyrrel said. "We like to hang out pretty consistently. We go to breakfast after practice because teamsmanship, sportsmanship and good teamwork out on the water really stem from having a decent relationship off the water too."
Because the rowing team is not one of the university's varsity programs, the challenge of being a club team that doesn't necessarily always receive enough credit for their hard work can feel overwhelming at times. But Tyrrel says he is grateful for the support that has continued to show the club and other non-varsity programs.
"There's definitely a challenge to not having everything given to you," Tyrrel said. "I think Andy Lemons and Campus Recreation and Wellness do a really great job with supporting us the best they can…St. Edward's has done a really good job at catching up with what they need to and really supporting club organizations as a whole."
A common misconception that is associated with rowing is that it only works out the upper body and disregards any other type of exercise. This isn't the case: not only does rowing actually focus on the lower body, but it also demands intense mental strength and physical endurance to make sure everything stays afloat.
"It definitely requires your full-body," Tyrrel said. "It's like a one-stop workout. I'd say it's just as much mental as it is a full-body workout because you really have to focus on what you're doing. It's not one of those things that where you can be in your own zone, you have to be with a bunch of other people. Having to work with a bunch of other people in perfect synchronization is really difficult. … It's probably one of the most rewarding aspects of this sport is just being able to work with other people."
Though its demanding effort is not for everyone, Tryll says that the personal challenges he has endeavored through the programs, as well as its dedication, are what drives him to continue striving for excellence inside and outside of the water.
"When you win a medal or when you compete…is a really exciting experience because you put in so much work in practice and then outside of practice," Tryll said. "It's not always the easiest thing to do, but it shows a really strong will and really good character to be able to say, 'Listen, I'm going to commit to this,' and then to go out and do it every day that you have it is really an important lesson and trait to possess as a young adult."
Even though the club has seen some fluctuation within the past few years, including the number of members it has which has ranged from 30 to nine, the emphasis on community and consistent commitment are attributes that the team has always heavily identified with.
Despite the harsh effort it takes to practice bright and early throughout the year, witnessing the daily birth of a stunning sunshine makes all the challenges well worth it. According to Tryll, one of the best parts of the rowing experience is appreciating the little things that a peaceful, silent morning has to offer.
"It's a ton of fun, it's a lot of work, but I fell in love with it. It's one of my favorite things to do. There's nothing better than watching the sunrise down on the lake."
Leave a Comment
About the Contributor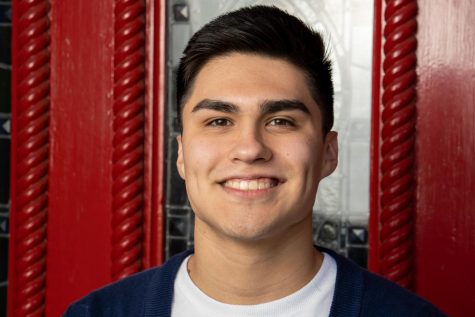 Adrian Gonzalez, Sports Editor
Hey! My name is Adrian and I am the sports editor for Hilltop Views. I am a senior Writing & Rhetoric major with a concentration in Journalism &...