Concern over campus mental health resources prevalent among students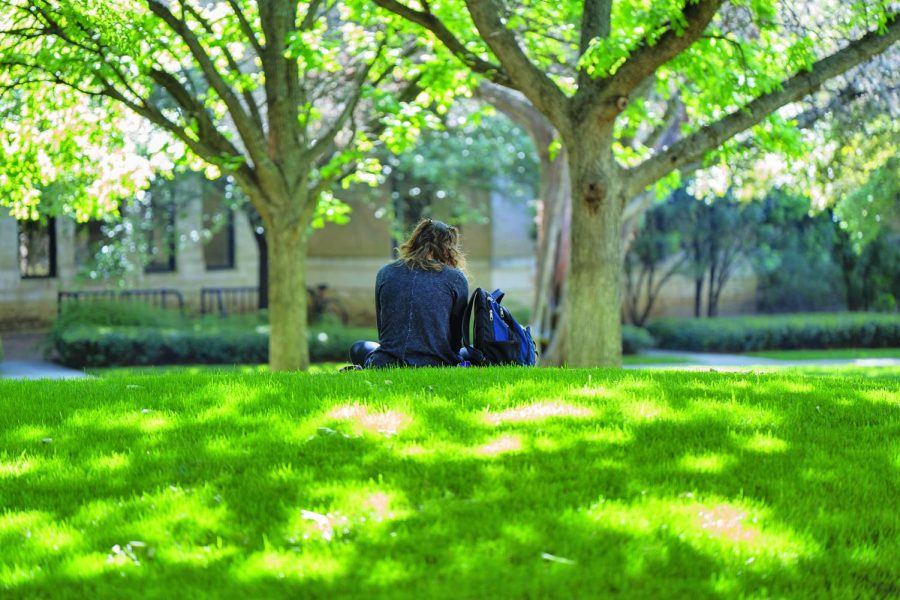 According to a survey conducted by the American College Health Association in 2017, anxiety and depression were reported among students as the biggest factors affecting their academic performance.
In 2018, a global survey consisting of 14,000 students found that one in three college freshman reported dealing with mental health disorders even before entering college.
The numbers show that for quite some time, there has been a serious problem regarding mental health among college students — so much, in fact, it's been labeled as the "mental health crisis."
Society talks about this issue with this looming idea that students are only ever depressed and anxious. They talk about what students can do on their own, where they can go and how they can reach out to their school's services. However, they never talk about whether or not these are effective options. They never seem to ask if there is anything more a school can do, not what they are already providing.
At St. Edward's, the Health and Counseling Center (HCC) contributes to this conversation.
This free service plays a big role on campus to not only promote taking care of our mental health, but to aid those with mental illnesses through confidential counseling. According to their homesite, at least 30% of St. Ed's students use the HCC, and while some might describe their experience as positive, others have different opinions.
For some students, such as junior Carina Sanders, the biggest problem with the HCC is not about the services they provide, but how they run them and how there aren't enough.
Sanders, who has bipolar disorder and anxiety, was only ever able to schedule and attend two counseling appointments before she was told she "needed something long-term." The HCC apparently only works with students on a "short-term basis," meaning they are allowed counseling for several weeks if their issues aren't "chronic."
Sanders didn't fit that category, and was forced to find help elsewhere without an explanation. She turned to the Student Disability Services, where she has been going to for a while now and claims she is getting the help the HCC didn't provide.
"She [her counselor] always asks how I'm doing, how my grades are, how my therapy and medication are working for me, etcetera," said Sanders via email. "It makes me feel like someone actually cares and wants to advocate for me."
According to Dr. Peña, clinical director of the HCC, these types of experiences aren't what they aim for. However, they are unfortunately common, specifically surrounding making appointments.
Although she has only been on board for a year, Dr. Peña explained through email how she immediately got feedback regarding the difficulties students had with making or getting an appointment. She says they now have a system in which students first meet a clinician instead of attending basic counseling in order to discuss "what their current concerns are and what they are looking for." This new process is meant to help students quicker than before.
"Our responsibility is to provide quality counseling services that fit each students needs," wrote Peña. "It is our role to make counseling recommendations for treatment based on what a student is experiencing and what we believe will help them be their best self. My hope is that students see the HCC as a place of support for all students, regardless of what their struggles are."
Dr. Peña also explained some new and creative outlets the program is working on, such as group offerings, more workshops, and promoting their services by showing their faces at table events. Yet, even with all these positive changes, Sanders' experience is enough to show that there is definitely a lot more the HCC — and any other university counseling center, for that matter — can do.
For Sanders, providing more counselors to match with the demand is something she believes should be worked on, as well as advocating about other mental health disorders that aren't just depression and anxiety. While these may be the two most prominent illnesses among students, they aren't the only ones that should be talked about. Assuming that everyone faces these same struggles excludes others from getting the help they need, especially if they don't know it is offered.
I cannot personally say I've had a bad experience with the HCC. In fact, I went quite a lot my sophomore year for anxiety. Yet, like Sanders, I believe it could have been better. The scheduling could have been quicker, the counseling a little longer, the process a little easier.
Even so, it's good to know that the students' needs and voices at St. Edward's are being heard. While there is still so much more the HCC can work on, it is important to recognize that they, possibly unlike other schools, are doing what they can to put our mental health first, because it should be– no matter the level or circumstance. It's important to prioritize ourselves before anything which is why it's also important to have a reliable and trustworthy service on campus for anyone to use– one that is constantly taking the time to work with students and asks themselves: what more can we do and how can we do it?