FACEOFF: San Antonio fans still hurt after historic win from Toronto (as they should be)
This week the Toronto Raptors won the 2019 NBA Championship. The win sparked controversy across the nation as they toppled the six-time NBA champs, the Golden State Warriors in a 4 – 2 series. Being their first championship in franchise history, the win marked a historic milestone for the Raptors, Canada, underdogs across the globe and for their 2019 Finals MVP, Kawhi Leonard.
The reclusive and oftentimes mysterious ball player sparked controversy last year after asking to be traded from the San Antonio Spurs roster having sat out of most of the 2018 season without warning. The blow was quick, powerful and unexpected, and one lukewarm take that I've noticed from uninformed optimistics the past couple of weeks has been eating away at me recently. "San Antonio, get over it," "San Antonio, be grateful for what Kawhi has done for you," "San Antonio, stop being so petty."
Now, as a San Antonio native and a die-hard Spurs fan since birth, I'm not going to sit here and say that Kawhi Leonard isn't a good basketball player. That would without a doubt hurt my credibility as a journalist. To do so would be to simply go against facts. However, what I won't do is allow non-San Antonians to form their own narratives as to how the Spurs handled what many call, "The Kawhi Situation," and how San Antonio should feel about Kawhi's super stardom in Toronto.
People who are against the community of Spurs fans that are still in pain from The Kawhi Situation have yet to fully uncover just how blindsided we were.
I cannot and will not speak on behalf of the entire city of San Antonio. However, I will answer some of the biggest statements said about the Spurs community and do my best to shed some light into these accusations.
"The San Antonio Spurs medical staff misdiagnosed Leonard's injury and therefore he opted to sit out the entire 2018 season."
In August 2017, the Spurs medical staff diagnosed Leonard with Quadriceps Tendinopathy, a disease of the tendon that has a degenerative effect on the affected muscle, meaning that Leonard's quad could be treated for pain but was never going to fully heal. Skeptical about the staff's decision, Leonard chose to consult his own doctors, who instead diagnosed him with atrophy, a condition that affects the tendons connected to the affected muscle. Atrophy can be treated and healed with the right regimen.
Knowing this information, we can infer that Leonard chose not to listen to the Spurs medical staff and insisted on playing only nine games of the 82 game 2018 season. Imagine calling in to work 73 times in a year with a work-related injury that has already been treated,having little to no communication with your boss or coworkers during your absence.
Kawhi was ultimately given full control of his injury, and we trusted that he would come back when the time was right. Why wouldn't we trust him when he explicitly said that he was going to finish his career as a Spur to Coach Greg Popovich and to the press during an interview? To say San Antonio should, "get over," Kawhi's stardom is to go against the professional medical staff that has correctly treated and diagnosed countless injuries on the Spurs roster.
"Kawhi wanted to be a star player, and San Antonio wouldn't let him be one."
San Antonio is historically known for creating memorable star athletes. Former Spurs point guard Tony Parker was 19 when he first joined the Spurs. Additionally, former point guard Manu Ginobili and former power forward TIm Duncan had both barely turned 21 when they joined the Spurs team in 2002 and 1997 respectively. Parker, Ginobili and Duncan, The Big Three, were the face of the Spurs franchise for over 20 years. During The Kawhi Situation, Ginobili and Duncan had both retired and Parker had signed a two year deal with the Charlotte Hornets. One could say that the Spurs were looking for a new face to our franchise, and Leonard was supposed to be that face.
I'll admit, San Antonio fans feel too much, and feel too deeply for our players. At 22, and still not done with his first year in San Antonio, Leonard was already included in a variety of murals and art pieces across town. His face was on any free wall that there was in the city and we were proud to call him a Spur. The love that Spurs fans have for their players is unlike any sort of love you've seen. It's wild and passionate and it's because our players are loyal to our city. It hurts to say goodbye to any Spurs player, and with Leonard, we never even got to say goodbye.
We were ghosted. Left on read. Stuck in a perpetual state of waiting by the phone hoping Leonard would text us back. Stalking his social media in hopes it would lead to a clue of where he's been. He was absent during the regular season games. He was absent during the 2018 playoff games. He was absent from Spurs Coach Greg Popovich's wife's funeral. He was absent when Spurs representatives flew all the way to New York to see how his doctor's treatments were going. But most of all, he was absent from the San Antonio community. The next time we were to see Leonard was in a Toronto uniform. He was next in line to be our star, but he wanted nothing to do with us.
Yet, San Antonio is gaslighted for feeling betrayed and we are told that we should get over it.
"Kawhi wanted go to L.A, and the Spurs moved him to Toronto as punishment."
To question the stylings of Spurs' Coach Popovich is to question the very existence of time and space. San Antonio has not a malicious bone in its body. We want the best for our players at all times no matter what team they play for. We've already established that Kawhi wanted to be a star NBA player that'll go down in history, so Popovich made it happen.
Much like Marvel's Dr. Strange in  Avengers Infinity War, Coach Pop saw 14 million possible outcomes in which Leonard can be the star he wanted to be, and the only way for that to be done was to be traded to the Raptors.
Even after the betrayal, the Spurs staff had Kawhi's best interests in mind in sending him to Toronto. Coach Pop knew that Leonard was going to dominate the Eastern conference without hesitation and get them to the finals. Leonard was always supposed to be the one to topple the Golden State monopoly, and since he didn't want to be the face of our organization, we made him the face of Toronto.
Yet, Twitter trolls and basketball dweebs alike continue to slander the Spurs franchise name for having any sort of feeling or opinion towards our ex-star. To that I say, baloney. Spurs fans one and all, be angry, be vocal and be defensive. From one of Leonard's exes to another, I pray that Toronto never has to feel the pain that San Antonio felt, because the time will come when everyone realizes that Spurs fans have every right to still be salty.
Leave a Comment
About the Contributor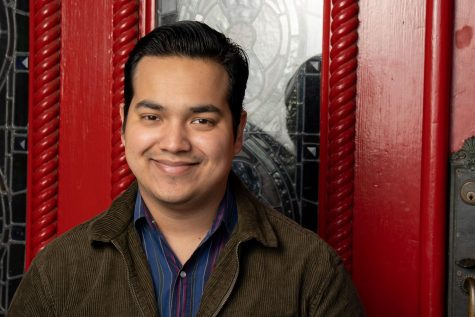 Matthew San Martin, Editor-in-Chief
I'm Matthew San Martin - A senior Communication major with a focus in Digital Media and Journalism and Editor-in-Chief of Hilltop Views. I served as News...