FACEOFF: Kawhi Leonard's Spurs legacy should be treasured, not tarnished by Spurs fans
I get it. If a superstar-caliber basketball player seemingly quit on his team and forced his way out of a respected franchise that was solely built around him, it's certain there is going to be a negative response from loyal fans who've rooted for him since the start.
This is the unfortunate reality that faithful San Antonio Spurs fans had to endure last season as the soft-spoken small forward Kawhi Leonard demanded a trade from the tight-knit Alamo community to play for a bigger market like New York or Los Angeles.
Through felt mistreatment to a quad injury along with an accumulated rift between training staff and teammates, Leonard was eventually involved in a blockbuster trade that sent him to the Toronto Raptors — a team willing to take a risk on the injured star. as he is set to be a free agent next month.
The risk paid off. In his first year with the Raptors, Leonard led the team to not only their first-ever NBA Finals appearance, but dethroning of the fierce Golden State Warriors as the new league champions as they won the series in six games. With averages of 28.5 points, 9.8 rebounds and two steals, the two-way star wielded the precious Finals MVP award once again, leaving a sour taste in the mouths of petty Spurs fans everywhere.
Even though the drama surrounding Leonard's stint in SA happened over a year ago, many Spurs fans are still not over the break-up and refuse to root for the player they adored most, which just seems stale at this point.
In his seven seasons with the Spurs, the franchise has seen him blossom from a "project" player with defensive potential to one of the league's top players with All-NBA talent.
Yes, Spurs fans were robbed of having their star franchise player for another couple of seasons. Yes, the way Leonard handled the entire trade saga could've been  a bit different. But for the Spurs fans who are still angry about the man's trade demand, is it too much to ask to just let bygones be bygones?
Rather than scoffing at the idea of Leonard leading an entire country to their first ever basketball championship in just one season, Spurs fans should be grateful for what the self-proclaimed "fun guy" did for the city and the impressive legacy he left behind while donning the black and silver.
Prior to being the player to essentially end the Warriors dynamic championship run, Leonard was also a key contributor to stopping another seemingly invincible dynasty in the Miami Heat  led by LeBron James during his athletic prime back in 2014.
Leonard, only 22 years old at the time, was tasked to guard James throughout the series and it was certainly effective as his defense and shooting efficiency was enough for Leonard to be named the 2014 Finals MVP,leading the Spurs fan base to celebrate their fifth championship in 15 years.
Aside from helping the Spurs extend their winning tradition, fans were especially treated with the opportunity to see  Leonard's growth during his time in San Antonio. The fanbase was able to see the small forward develop from an NBA All-Rookie First Team selection in 2012 to an NBA MVP finalist in 2015 and 2016.
Along with multiple All-Defensive team selections, All-NBA team selections and All-Star Game appearances that help made Leonard's time with the Spurs so memorable, perhaps one of the most impressive accomplishments was winning back-to-back Defensive Player of the Year awards in 2015 and 2016.
These awards not only solidified his presence in a league scattered with superstar athletes, but cemented his legacy as one of the best defenders the league has ever seen. These are all prestigious accomplishments to earn throughout an entire career, so the fact the he received all these awards at such a young age is something to celebrate and cherish rather than neglect.
Perhaps what stings fans the most is seeing Leonard have a successful run with Toronto while  there was a realistic chance for a similar championship run in the 2017 Western Conference Finals before he went down with an injury against the Warriors.
But even so, by accomplishing as much as he did in just a seven year window, Spurs fans should be thankful for "The Klaw's" services for the franchise as he achieved everything as a Spurs instead of despising his recent success with another team. Leonard is already considered an all-time great, and much of that will be remembered as him representing the Spurs franchise.
View Comments (1)
About the Contributor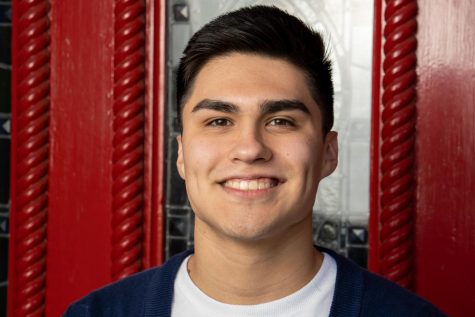 Adrian Gonzalez, Sports Editor
Hey! My name is Adrian and I am the sports editor for Hilltop Views. I am a senior Writing & Rhetoric major with a concentration in Journalism &...