Club rowing offers community open to all students, experience levels
Not everyone has the opportunity to join competitive rowing  before college . Even at the collegiate level, it is one of the most unexplored and unappreciated sports. In reality, rowing takes immense commitment as crew members must dedicate time to the routine of waking up early  and manning the boat's oars as an efficient unit with up to seven other teammates. 
The members of the St. Edward's University rowing team have varying skill levels that range from having never been inside a boat to having seven semesters of rowing under their belt. They are currently coached by Marty Zuehlke, who holds an impressive resume, including coaching at the Paralympic and Olympic Games.
The club is also instructed under the guidance of President Jo Sanchez and Vice President Rey Manríquez. The team adheres to a grueling and intense schedule, with the weekday practice times running from 5:15 a.m. to 7:15 a.m.Monday through Thursday, as well as from 7 a.m to 9 a.m. on Saturdays. 
Freshman Hannah Garcia is new to the rowing scene and, despite the daunting task of stepping into an intimidating new experience, she says she is eager to learn and grow from the sport. 
"I have no [rowing] experience, but my parents have been trying to get me to do it for a really long time because it's good to have in college [and] easy to get scholarships," Garcia said. 
She is relying a lot on the knowledge and skill of her older crew members, of whom she has high expectations.
"[A good teammate is] someone that gives authority but in a respectful way, and that has a positive outlook on everything we are doing and someone that motivates everybody and makes them want to be there." 
As someone who has done rowing for all of their college career, senior Justin Canty is one of the eight returning varsity members and is extremely passionate about the sport itself. Still in the early days of the season, his expectations for the new members are high as he hopes to pass down his experience to the future generations of crew members. 
"Experience is something that we can give them. A lot of people don't have experience with us," Canty said. "I think I just want the people who come to be glad to be there and just be committed and just have fun with it and really get behind it." 
Canty believes that an optimistic mentality is extremely vital for crew members to possess. The demanding start times and unrelenting practices can severely affect a member's mood for the worse, and one person's negative attitude can affect how the whole team works together. 
"The most important rule of rowing is kind of just to be positive with it because the practices are early in the morning. So, if you have a negative attitude about it, then you're obviously not going to be happy about it because your starting your day very early at a negative point. So just be happy that you're doing it and try to have a positive attitude."
Leave a Comment
About the Contributor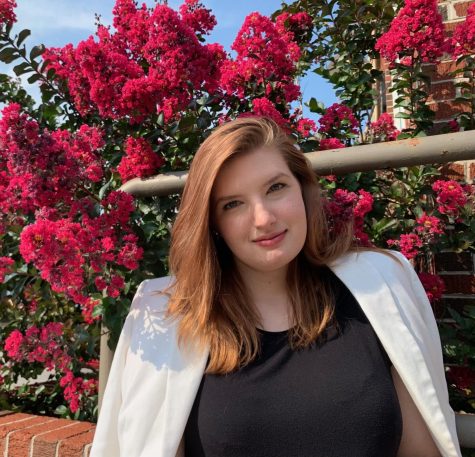 Audrey Cahak, Copy Editor
Audrey is a senior writing and rhetoric major with a concentration in creative writing and a minor in journalism. She started writing for Hilltop Views...