Ariana Grande sends message to fashion retailers: don't steal art
It seems as if Ariana Grande cannot escape the shadow of controversy no matter what she does. From accusations of queerbaiting to song stealing, Grande is always under scrutiny. This time around, however, it appears that people aren't blaming Grande.
It all started when Forever 21, a teen and young adult clothing brand, posted images to their social media that looked eerily similar to stills from Grande's music video "7 Rings."
The model in question bears a striking resemblance to Grande, as well as sporting a pair of crystallized earmuffs that look very similar to those worn in the video. The photo posted on Instagram also contained a caption that quoted the song in question. The post has since been deleted off of their Instagram page. 
Grande is now suing the company for $10 million under the claim that the company knowingly used her image without getting her permission first. To some, this might seem incredibly harsh, especially considering the retailer is close to filing for bankruptcy. 
However, there is more to the story than what meets the eye. It is reported that Grande and Forever 21 had been in previous negotiations to bring a collab to stores in the coming months.
The deal ended up falling through, as Forever 21 offered Grande a deal that was "insufficient for an artist of her stature," reported Pitchfork. To me, it seems as if Forever 21 wanted to profit off of Grande's popularity that resonates with their main audience but didn't want to pay the sufficient amount for it. 
Simply put, they decided to steal it.
It can seem like Grande is coming off as greedy by suing for what is hers. Instead, for a moment, imagine this: A large company wants to partner with you because they enjoy your art. You make an offer that represents what you think your art is worth. Instead of being willing to pay the correct price for your art, they instead try to profit off of it without you reaping any benefits of your own art.
You would be mad, rightfully so.
In this day and age of people ripping each other off, it is more important than ever to value every kind of artist and their artwork. Artists work extremely hard and sometimes see very little profit from it. They can't all sue for $10 million, but I see this as a message that needs to be sent out to large companies. 
No matter if it is a local Austin artist or a global superstar like Grande, we all deserve to profit from our hard work without fear of it being stolen. 
About the Writer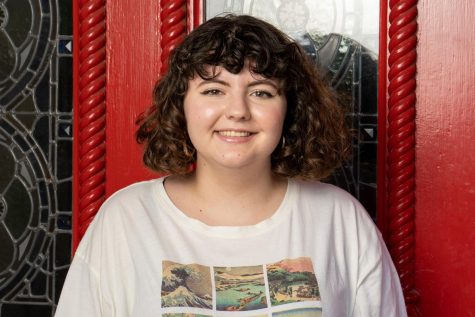 Sierra Rozen, Life and Arts Editor
Hi! My name is Sierra Rozen and I'm the Life and Arts editor. I'm a senior Communication major, with double minors in Journalism and Women's Studies. This...