Women directors set to dominate domestic box office this semester
In the words of Billy Eichner, "for a dollar, name a woman." No, seriously, can you name a female director? If not, do not fret, even the Academy Awards have trouble naming female directors. In its 91 years of production, only five women have received the Best Director nod and only one ⁠— Kathryn Bigelow for "The Hurt Locker" in 2010⁠ — has won. 
This is actually a very common issue. According to San Diego State's Center for the Study of Women in Television and Film, only 8% of the top 250 grossing movies in 2018 were directed by women. Unless you are Timothée Chalamet or another member of the Academy, you can't change who gets nominated for an Oscar and who doesn't, but you can support female-directed films being wide-released this semester. 
Untouchable
(dir. Ursula Macfarlane) – 
Streaming on Hulu
Technically this is not a wide-release film, but it is already streaming on Hulu. If you have the Spotify and Hulu student package, there is no reason for you to not watch this documentary. "Untouchable" tells the story of Harvey Weinstein's victims through their own words. It contextualizes Weinstein's actions that had been ignored for years without the clickbait headlines and through the people he affected personally. In the midst of his trial, this documentary is a must-watch.  
Hustlers
(dir. Lorene Scafaria) – 
Now in theaters 
Based on a true story originally reported in New York magazine, Lorene Scafaria casts Jennifer Lopez, Constance Wu, Keke Palmer, Lilli Reinhart and Cardi B as strippers who embezzle money from Wall Street stock traders and CEOs at their club. The movie earned high praise from IndieWire, the Los Angeles Times and Rotten Tomatoes before it's wide-release this past weekend. Movies with all-female leads and teams ⁠— Scafaria also wrote the script and Lopez produced ⁠— rarely get the media coverage "Hustlers" received before even debuting. 
Abominable
(dir. Jill Culton) – 
In theaters Sept. 27
Jill Culton started her animation career with Pixar where she holds credits for creating Jessie from "Toy Story" and writing "Monsters Inc." She made her directorial debut in 2006 with "Open Season." Her latest project, "Abominable," premiered at this year's Toronto International Film Festival (TIFF) and received great reviews. While the story-line seems to follow traditional coming-of-age molds, it's sure to be as iconic as some of our childhood favorites. 
Harriet
(dir. Kassi Lemmons) – 
In theaters Nov. 1
Kassi Lemmons's "Harriet" has received mixed reviews based on the trailer and its recent premiere at TIFF. The film follows Harriet Tubman as she travels to the north for freedom and when she decides to return to the south and help slaves escape. Vulture's review of the film states that if you have watched any biopic, you will not be surprised. However, I think it's important to recognize the diversity and timeliness of the film and Lemmons's courage to take on a project about such an iconic figure in American history. 
Honey Boy
(dir. Alma Har'el) – 
In theaters Nov. 8
Alma Har'el's directorial career mostly consists of documentaries, which makes "Honey Boy" that much more interesting. The film was written by Shia Lebouf and shows his relationship with his father, played by Lebouf himself, throughout his turbulent career. The trailer itself is very moving and Lebouf is already receiving Oscar hype. I am excited to see Har'el's take on Lebouf's autobiographical story given her documentary background and the raw truth of someone who has lived almost all their life in the public eye. 
Charlie's Angels
(dir. Elizabeth Banks) – 
In theaters Nov. 15
I cannot tell you if the new reboot of "Charlie's Angels" will be good or not, but I can say I am a fan of Elizabeth Banks as an actor and her solo directorial debut "Pitch Perfect 2." As a little girl who dreamed of becoming a super-spy, I was a huge fan of the 2000s original and its sequel, both directed by McG. They were fun and high-stakes and I have no doubt the reboot will deliver the same high-energy excitement.  
A Beautiful Day in the Neighborhood
(dir. Marielle Heller) – 
In theaters Nov. 22
From early reviews, "A Beautiful Day in the Neighborhood" has been described as making you feel exactly the way Mr. Rogers, portrayed by Tom Hanks, did. The film, like "Hustlers," is based on an article originally published in 1998 by Esquire and the impact Mr. Rogers had on the journalist who profiled him. Marielle Heller's past projects have also been biographical films, most recently "Can You Ever Forgive Me?" (2018), which earned lead actress Melissa McCarthy several best actress nominations, so she's no stranger to the portrayal of real-life people on the big screen. If anyone can take on the challenge of portraying one of America's most beloved television icons, it's Heller and Hanks.
Little Women
(dir. Greta Gerwig) – 
In theaters Dec. 25
Greta Gerwig's solo directorial debut "Lady Bird" earned her a spot next to the handful of women who have received a directing nod from the Academy. In her sophomore film, Gerwig brings back Saroise Ronan and Timothee Chalamet, the leads of "Lady Bird," as Jo March and Theodore 'Laurie' Laurence from Louisa May Alcott's novel of the same name. With big names such as Emma Watson, Meryl Streep and Laura Dern attached to the film, Gerwig is sure to have another award-winning film in her hands. 
About the Contributor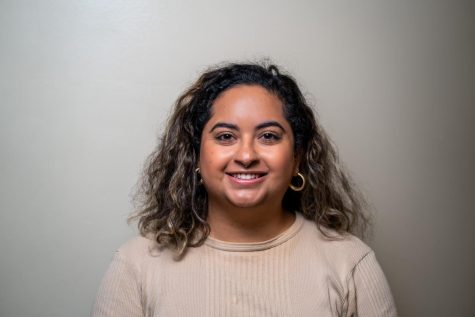 Myrka Moreno, Social Media Editor
I am Myrka Moreno - Digital Media Management, Journalism minor and Social Media Editor at Hilltop Views. This is my senior year at St. Edward's University....