'Joker' strays from comic book movie tropes with dark origin story
It was a warm Thursday evening, but strolling into the Alamo Drafthouse Ritz on Sixth Street was no walk in the park. Upon entrance, a security guard stood by the door watching patrons cram into the small theater lobby. Everyone huddled around anxiously waiting for an usher to call out "now seating in theater one for 'Joker.'" The atmosphere was tense as the FBI bulletin put out to local law enforcement about online threats of shootings at screenings of Todd Phillips's "Joker" this weekend, making for a quiet parade out of the theater as the film ended.
The last beloved live-action on-screen Joker portrayal was in 2008 when Heath Ledger donned the face paint to play the iconic character in "Batman: The Dark Knight." During "Batman: The Dark Knight Rises,'" the final film of the Christopher Nolan Batman Trilogy, opening night, a gunman killed 12 people and wounded many in a theater in Colorado. It was a dark night, "Joker" is a darker film.
"Joker" is a raw, gritty and intimate portrayal of a character whose origins are usually left unknown due to its many varying backstories. Many fans like the clown with no back story. Phillips, however, humanizes Joker as a mentally ill person who has been discarded by the broken system of Gotham and Thomas Wayne, Bruce Wayne's Dad. Joker is immortalized as a savior and christ-like figure in the end; a symbol of a new and changed Gotham.
It's one of the many possible origin stories of the famous villain. "Joker" follows Arthur Fleck's descent into madness as he becomes The Clown Prince of Crime. It shows a man beaten emotionally and physically, a man who uses laughter to block pain as early as childhood.
Joaquin Phoenix gives an Oscar-worthy performance and is the clear-cut favorite for Best Actor. Phoenix leaves it all on screen, giving 110% to this role, and his performance is one for the ages. Through its cinematic portrayal, Phoenix gives a performance that rivals Ledger's and, in many ways, surpasses it. While Ledger's Joker is the definition of nihilism and chaos, Phoenix's Joker became the hero Gotham wanted, but not the one it needed or deserved.
This film is a must-see for fans of the villain. It's strangely beautiful and is an ode to the character that everyone loves. It gives Joker the proper on-screen origin story. There is no Batman — and I didn't want him here. Batman may be the Dark Knight, but he always brings light to the end of the film. This film starts dark and gets darker.
Warning: The film glorifies Joker as the Prince of Crime. If you find the glorification of violence triggering, this will never be the movie for you. The film does not promote mass shootings, more like rioting and violence in general. Do not let the threats cloud your decision to see this film, this film is a cinematic masterpiece and is visuals, story and characters are stunning. "Joker" can also be a little bit anxiety-inducing. While you travel down a dark hole with Fleck, you are torn, trying to decide if he is a vengeful, frustrated man or a crazed lunatic. He is the perfect antihero. Either way, Joker finds peace in the end, and everyone lives scared out of their minds.
About the Contributor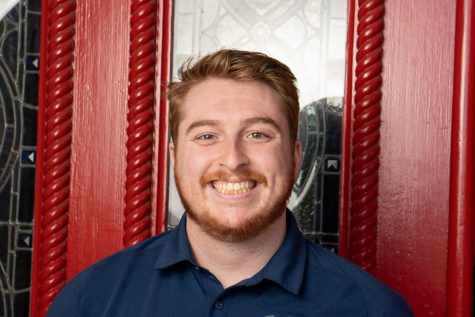 John Walker, Life and Arts Editor
MY name is John Walker, and I am one of the Life and Arts Section Editors. I'm a senior Communication major and journalism minor from Los Angeles, California....