Hilltopper bridges past and present fashion trends with personal style
If you spot her walking around campus, her retro-inspired outfits with vibrant pops of color are sure to catch your eye. Her trademark makeup look consists of a striking cat-eye liner and bold lipstick to compliment her clothing. Her name is Allison Smith, a freshman Theatre Arts major at St. Edward's University who holds a style that's all her own.
Delving deep into her fashion inspiration gave impactful insight on her personal look. Here's what she had to say about her style: 
What is the most important aspect of your style to you?
I mean, when I pick clothes out, basically I think 'Huh, would Elton John or Freddie Mercury approve of this outfit?' If they do, then I would buy it.
So you're very clearly inspired by the outlandish, trendsetting artists of former decades. Are there particular time periods or other artists, like Elton John, that inspire your fashion as well?
I love the seventies, and definitely Elton John. If you look at my room it's all Queen and Elton John.
When did you come into your own with this fashion? 
In middle school I basically wore anime t-shirts, black skinny jeans and this weird grey jacket. That's all I wore. Around high school I started dressing how I wanted to.
Have you ever been ridiculed for your style?
I do get some weird looks like: 'Why is she so dressed up, we're just going out to the mall today?' or 'Are you sure you want to wear that? It's like really fancy,' but I just wear what I think looks cool.
What would you say to other people who have a style in mind they want to delve into but aren't necessarily going for it because they are afraid of possible judgement? 
Just don't worry about what other people think. If it makes you feel good then go for it because that's really all that matters.
Confidence is key for Smith, who carries her appearance with pride everywhere she goes. Her iconic look truly expresses her personality and passion, which makes her feel empowered in her daily life.
Leave a Comment
About the Contributor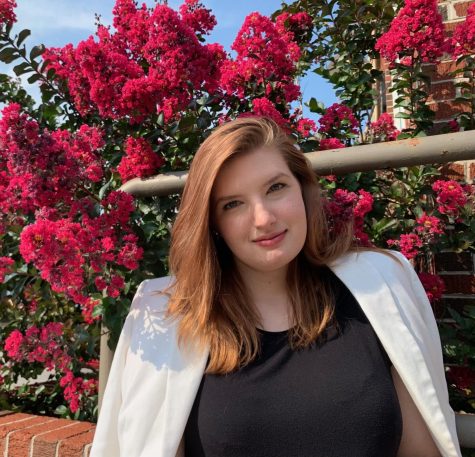 Audrey Cahak, Copy Editor
Audrey is a senior writing and rhetoric major with a concentration in creative writing and a minor in journalism. She started writing for Hilltop Views...