Academia has a fashion style all of its own. 
As the semester begins and we meet our professors, we recognize that some of them have unique fashion senses. Which begs the question, how and why did they adopt their looks?
I interviewed three Department of Literature, Writing and Rhetoric professors to highlight their distinctive styles: Professor Alan Altimont, Ph.D., Professor Tim Braun and Professor Amy Clements, Ph.D.
For Altimont, his style is more deliberate with a traditional flare. He refers to his professional look as his uniform, which he has worn for over 25 years.
"Being a professor is a profession like being a lawyer or a doctor," Altimont said. "Traditionally, people in professions have distinguished themselves with their clothing choices. I'm stubborn and old-fashioned, so I have kept that tradition."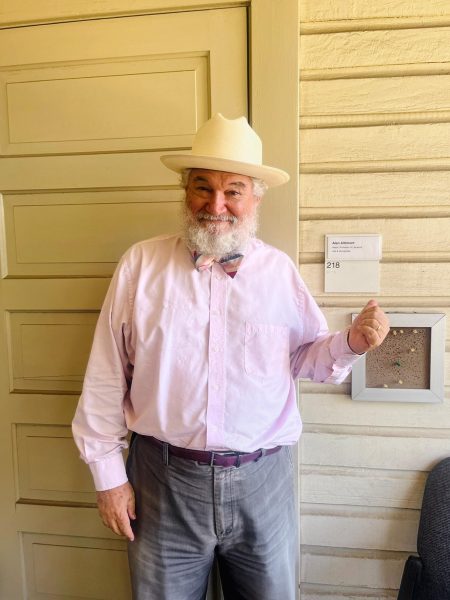 Altimont's most recognizable articles of clothing are bow ties, making his traditional look stand out from a plain corporate professional uniform. He owns 36 bow ties that vary in colors and patterns.
"I think I did it in part to be a little different from the usual," Altimont said. "But also because in pictures I have of my grandfathers when they decided to dress up, especially my Italian grandfather, he always wore bowties, so I kind of wear that to honor him."
Altimont wears colorful shirts, cargo pants and flip-flops outside his professional duties.
"The only time I dress like this off campus is if I am going to someone's wedding or a funeral."
On the contrary, Professor Braun's fashion style in the classroom is all about Hawaiian shirts and cargo shorts. He adopted this look within the past three years. 
Though Professor Braun "doesn't really like" cargo shorts, their pockets are practical. One pocket carries poop bags for dogs and another for treats.
"My style is primarily functional since now I'm having to use a cane to walk around," Braun said. "When I get Starbucks, I get a can because I cannot use my hands (and) I can't carry anything. So, breakfast tacos go over here and the can of Starbucks goes in here (motions to his various pockets)."
Although he wears colorful button-down shirts, Braun claims they maintain some formality for the classroom. He said you will never see him wearing a t-shirt on campus, though his Hawaiian shirts make him more approachable to students.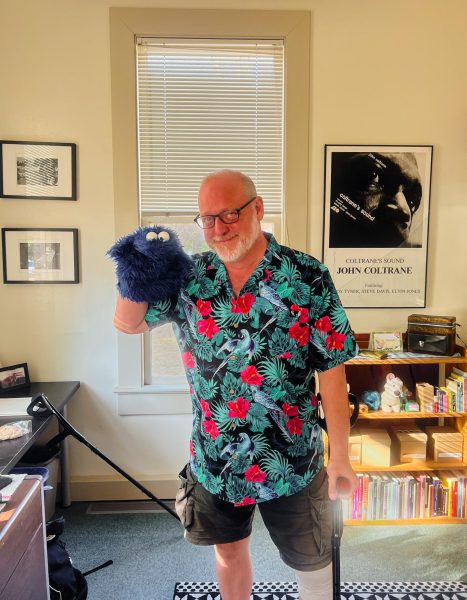 "I learned, and I am surprised by this, but some students found me intimidating," Braun said. "I think the Hawaiian shirt, a more colorful style of shirt, hopefully makes me more approachable. So far it is working with the freshmen. I had a lot of freshmen come and talk to me in the first two weeks, which was really good. Coming to talk to me is the best way to learn. You can't be scared of coming to see your professors."
In a nutshell, Braun's fashion style is "oldcore." His coworkers describe him as the Academia Jimmy Buffet.
For Professor Clements, her clothes allow her to express her creative personality. 
"I like variety and creativity when deciding what to wear in the classroom," she said. "When I started teaching, I realized that the visual rhetoric of the instructor can set the tone of how students feel when they come into the classroom, and it also communicates an expectation that I have of creativity and energy."
Clements contrasted her teaching fashion style with her past career in New York City's corporate world. Before she started teaching in 2001, her clothes were all black like her coworkers.
"There wasn't much room for variety," she said.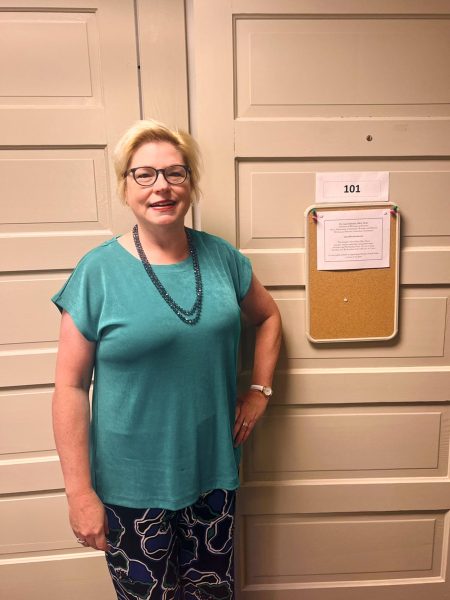 Now, Clements adopts a look that goes back to when she was an undergraduate. For summer and spring, bright fabrics are Clement's favorite. Some days she also wears all black and beige. Her students are eager to see Clement's next outfit, claiming her style to be unpredictable. However, for four years in a row, Clements has worn the same dress for the first day of school and plans to continue the tradition.
"I have a first day of school dress for August: it's hot pink and covered in palm trees," Clements said. "Professor Altimont last week, when school started, said something along the lines of 'that makes me feel that we are going to the beach' and I said, 'mission accomplished.'"