Sundays are for drag: An inside look at one of the many weekend drag shows showcased in Austin
A brisk walk downtown led us to a yellow-coated brick building with four neon tigers hanging down titled "Cuatro Gato." The downtown Austin lights stayed behind us while we entered a colorful and bright scene. We walked into a truly vibrant and light adorned seating area and immediately greeted with a warm welcome and smiles all around. 
Libations is a weekly variety show that gathers every Sunday to uplift and welcome Afro- and Latinx cultures, and queer and gender non-conforming individuals. This event is a collaboration with Cuatro Gatos and Trap House ATX. it  
"(It's) a place where we can all come together without any judgment and just be able to have fun," Gothess Jasmine, a full-time drag performer and Libations host, said.  
They value the importance of being able to have these safe spaces where people can get to know each other and also serve as a stage for up-and-coming drag performers. 
"(It) lets me destress, and I don't have to worry about looking a certain way or think about if my posture is straight, like none of it matters. And I get to dance and watch these beautiful people do their thing," Ali, an event attendee, said.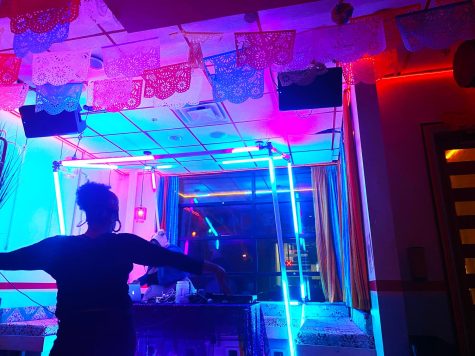 After we got our drinks at the bar, we took a seat  at the metal Coca-Cola branded table. The venue was nothing short of chill vibes and eclectic aesthetics . We eagerly waited for the performers to take the stage. In the meantime, Milo — better known as DJ Fairy Aries — played a wonderful selection of Rihanna and other confidence-boosting songs to get the crowd in the mood to have some fun and let loose. This is the part of the night where I bonded with Ali, a queer Black woman, who was also intensively lip-syncing "Bitch Better Have My Money" by Rihanna.  
The night began with lip-syncing and unapologetically yelling out the words to our favorite songs. 
"Welcome to Libations, I hope you are all ready to be blessed by these talented performers"  a voice said through the microphone. 
Heads turned as we looked to connect the voice to a face, lights flickered through colors, and we saw a figure emerge from the doorway. Gothess Jasmine strutted through the tables as she approached the stage, taking control of the space and alluring the crowd with her dazzling look. 
The first performer of the night, Nicotine, delivered soulful songs to the audience who bobbed their heads to the beat. Nicotine combined poetry with real-life experiences and merged both of them to curate songs they visibly pour themselves into.  
"Thank you for allowing me to have a platform and a space where I can share with you these pieces that I honestly put all of myself in," they said. 
The second performer of the night, Julianna, took the stage in a platinum blonde wig and a huge, fur coat. Julianna began the lip-syncing performance by sensually staring down at the audience and teasing them with a sneak peak of what lied underneath her furry coat. Juliana then gave the audience her back, perfectly timing the beat drop, throwing their fur coat  to the floor. The audience applauded  as their jaws dropped at the sight of Juliana's hot pink lingerie set. Juliana twirled and danced among the crowd as she put on a sensual and sultry show. Her final  move concluded with a death drop that turned into a slow crawl to an audience member.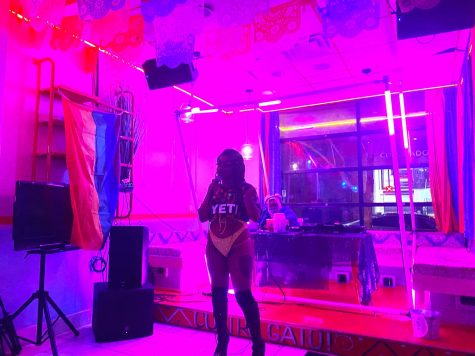 Gothess Jasmine also delivered a burlesque-type performance where she invited multiple audience members onstage for a  lap dance.. (Gothess Jasmine emphasized that if an audience member was uncomfortable at any point while during the performance , to immediately notify them.)
The final event of the night had  a twist:  The performers announced they'd take dances from audience members, or as the performers said, "giving back to the community". They asked for volunteers from the crowd to give the performers dances, and multiple hands shot up ecstatic at the opportunity to give back to the experts.
For more information on upcoming shows, follow Cuatro Gato and Gothess Jasmine for all your Sunday drag needs.
Leave a Comment