Visiting ceramic artist gives insight on her successful career
Chemistry professor and ceramics artist Melanie Harvey concluded the Fine Arts Center's Visiting Artists series for March.   St. Edward's art professor Alexandra Robinson invited Harvey to speak to students and professors,  sharing how she launched a successful small business out of the comfort of her own home.   
Harvey touched on  how she got into ceramics and her process for  creating her pottery, discussing the ins and outs of growing and running a ceramic art business. 
Harvey creates mid-fire functional pottery, so all her art is meant to be used. Her dishwasher- and microwave-safe pieces are practical for patrons, each including a personal touch. 
"I like to make it sort of whimsical and fun, and I use a lot of vibrant colors," Harvey said.  
She began  her art career during graduate school when a classmate recommended taking an art class. The course taught her the basics of how to create pottery. Soon she realized she wanted to make something other than traditional pottery — she wanted to make something different with her unique style and voice.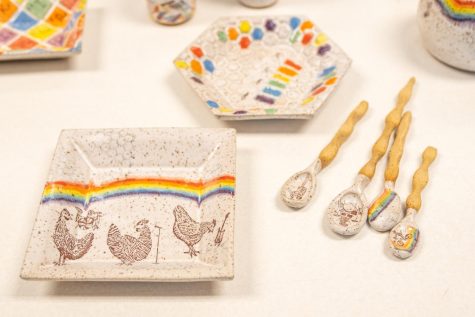 Harvey bought the necessary tools to continue learning pottery when she was able to buy a house after her first teaching job. She got to the point where she could sell her work at art fairs and also host art shows. 
Harvey began experimenting with laser printer decal paper to draw images onto the pottery. She uses hand-drawn images to reinforce her unique style. She learned to scale her production using decal paper to sell more handmade pottery. 
One of the significant challenges Harvey faces is managing her time to  create her  artwork. She works as a full-time professor at Johnson County Community College in Lawrence, Kansas and has family obligations before she's able to slip away and work on her artwork. She believes art students should find a balanced life and be strategic about their time.
Harvey encourages students not to be discouraged if someone doesn't like their artwork. Everyone has a unique style, and there is a potential buyer for everyone. 
"You don't have to please everyone, but you have to be happy with yourself for the things you are making and be proud of it," Harvey said. 
Readers can learn more about Melanie Harvey at www.melanieharveypottery.com or on instagram @melanieharverypottery.  
Rogelio Adame Govea
Leave a Comment
About the Contributor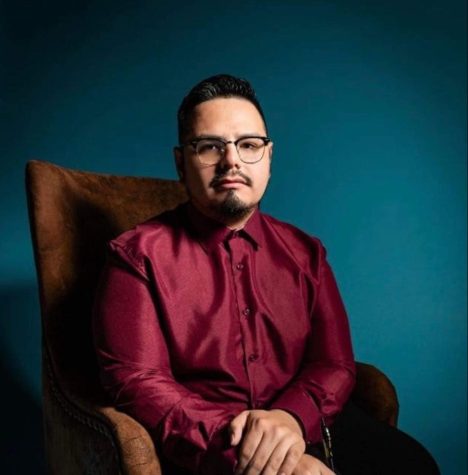 Rogelio Adame Govea, Staff Writer
My name is Rogelio Adame Govea and I am a Photography major. Fun fact about me is I enjoy getting to know people and learning from others. Creating stories...