Adjusting to America: Relationships, academics prove rewarding for international student-athlete
Trading in the familiarity of home  for a shot at creating the life you've always wanted isn't an easy choice to make. This is especially difficult when it isn't the route typically taken by most of your people.
This was the decision facing a young 15-year-old when she realized that it was time to leave behind her family in pursuit of the American dream. Originally from Delta State, Nigeria, Phydel Nwanze had always dreamt of discovering her potential in the United States – no matter how frightening it may have been to do it alone.
"It was scary," Nwanze said. "But it's what I have wanted to do for myself."
Perhaps Nwanze's courage came from her time in Nigeria and how personal strength was ingrained in her throughout childhood.
"Having to do things on my own and not calling my parents all the time really made me the independent woman that I am today," Nwanze said.
Nwanze earned admission into Cape Fear Christian Academy in Erwin, North Carolina, where she lived with a host family throughout high school. In high school, Nwanze made a name for herself as a rising star on the basketball court.
A four-year letterman on the varsity team, Nwanze would rack up impressive achievements, such as two First Team All-Conference selections, a Defensive Player of the Year award in 2016 and MVP honors in 2017. Her success at the center position turned heads and was enough to generate traction from Division I colleges.
The young center played one year at Morehead State University in Kentucky, but did not feel like it was the right fit for her. Once again, she found herself in a position to venture out and find a new place to maximize her potential. She placed her name on the transfer portal and saw interest from St. Edward's University, the place she now considers her new home in extending her basketball career as well as earning a degree in Kinesiology.
"I visited and really liked the warm welcome I received not only from the coaches but students on campus who aren't even athletes," Nwanze said. "[Coach JJ Riehl] plays the role of a coach, a mom, a sister, a mentor and someone I can talk to about anything. She is the foundation of it all."
In her second year in Austin, Nwanze says that developing a family dynamic with her teammates and coaching staff has helped her adjust to a new environment.
"It was a challenge at first trying to get to know my teammates and trying to learn how to play better with them," Nwanze said. "But now I feel like I know everyone on a better level. We can get along and talk more and play well together."
Now, in her second year at SEU, Nwanze says she's ready to take another leap in her collegiate career and contribute to the team's championship aspirations.
"Everyone's goals might be different. But at the end of the day, I know we all want to win a championship and I think that's what ties us all together. When things are falling apart, we remind each other that we have to pick it up and just go on."
Nwanze and the rest of the Hilltoppers (2-0 preseason) will host Huston-Tillotson (2-0) Nov. 16 at 1 p.m.
Leave a Comment
About the Contributor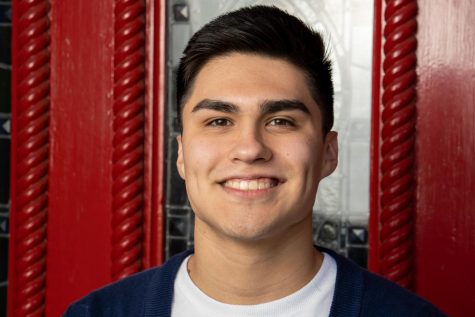 Adrian Gonzalez, Sports Editor
Hey! My name is Adrian and I am the sports editor for Hilltop Views. I am a senior Writing & Rhetoric major with a concentration in Journalism &...