McConaughey, Fallon fail to acknowledge struggles of Austin living
Late night talk show host Jimmy Fallon of "The Tonight Show" came to Texas last week, visiting Austin and hosting a show from The University of Texas at Austin on  Nov 7. 
Fallon turned "The Tonight Show" into a momentous celebration of Austin and UT spirit by incorporating country music numbers, paying three UT student's tuition, and interviewing UT's Minister of Culture, Matthew McConaughey. 
After a grand entrance complete with cheerleaders, pyrotechnics and giant flags that spelled out T.E.X.A.S, McConaughey took the hot-seat with Fallon and went on a lyrical, preacher-like speech that spanned several minutes, enlightening Fallon and the millions of viewers across the globe about the great city of Austin.
It wasn't until a couple of minutes into this speech that I wondered if we lived in the same Austin.
"One of the great things about Austin is to make it here, all you really gotta do is be yourself," McConaughey said. "You can be a cowboy, you can be a hippie, you can be an American Indian, you can be an Asian, Lesbian, White, Black, Brown, Yellow – a blue-haired dwarf and you are welcome in Austin! You really are!" 
With that logic, you would think that homeless people and low-income students should be included in this welcoming, but they aren't. 
State agencies started to move in last week in an effort to "clean up" Austin and its homeless problem. The homeless population of
 Austin has suffered a major hit these past few months following the orders of Gov. Greg Abbott to intervene with Austin City Council and wipe out multiple homeless encampments. This not only went against Austin City Council's ordinance that made homeless camping legal, but it set up a growing community of thousands of homeless residents for potential danger. With a cold winter moving in, Abbott is freezing the homeless population out of Austin. 
"What I think unites all this diversity I was talking about, is that we have a cowboy code and a sense of common values that we all rally behind," McConaughey said. " In Austin, nobody's too good … but everybody's good enough."
Additionally, the City of Austin voted in early October to knock down five affordable student apartments, which include Ballpark North, Town Lake, and Quad East, West and South and replace them with 4,700 family units, 600 hotel rooms and more than 4 million square feet of office and retail space. This leaves low-income students and single-year renters without a home starting in 2023. I don't see how some of Austin's only affordable student housing being demolished for luxury condos couldn't have been mentioned during a taping on a college campus in Austin. 
If you're reading this and asking yourself, "does this guy really expect McConaughey to speak out about these issues on national television?" My answer to you is yes. 
McConaughey is no stranger to protests. This is apparent in his appearance at the March For Our Lives rally last summer, where he called Texas lawmakers to pass common sense gun legislation. Him being there not only gained national attention, but cemented his authority as an Austinite to the greater public. 
When you have an influential person like McConaughey go on national television and tell the world what a great place Austin is, you are undermining the problems that run rampant in our city. 
"We don't lie, cheat and steal, we're an optimistic people, we're resilient, we're friendly, we're fair, we respect and value ourselves and we respect and value each other," McConaughey said. 
I understand that there's a time and place for everything. There's time to celebrate campus culture and there's time to shed light on injustice. But with ACL in the past and SXSW still months away, this episode of "The Tonight Show" felt like an impulse that gave Austin a pat on the back for seemingly no reason. 
Mind you, I'm not even going into the thousands of microaggressions that students of color face everyday in Austin. Nor am I going into the historic racist underbelly that Austin was (literally) built on. You all can find that out for yourselves. 
What I will say is that when it comes to white men in power, even if they are as cool as McConaughey, it's absolutely necessary to take what they say with a grain of salt. Austin is not a hippie town that is filled with love for every neighbor, and it's downright negligent for people like McConaughey to give that idea to the millions of viewers of "The Tonight Show." In short, Austin has some ways to go before McConaughey can deem it "alright, alright, alright," to a mass audience. 
Perhaps McConaughey put it best when he said, "to all newcomers — you know we got 125 a day coming here – if you don't want to come here and respect our values and our tradition please keep on flying, drive on by."
View Comments (31)
About the Contributor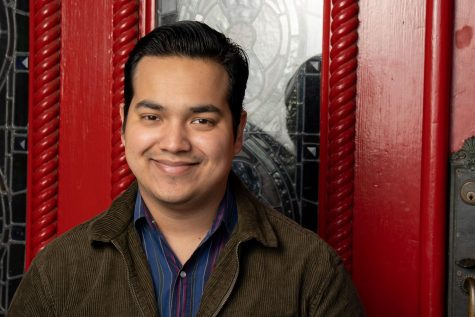 Matthew San Martin, Editor-in-Chief
I'm Matthew San Martin - A senior Communication major with a focus in Digital Media and Journalism and Editor-in-Chief of Hilltop Views. I served as News...