Thrifting but make it fashion: St. Edward's student talks inspiration, future business plans
Elena Poloskey can usually be found strolling the aisles of a local thrift store. As she explores the racks of used clothing, she focuses on what she came for.
"Whenever I thrift I really like to have a vision in mind. So what I like to do beforehand is look through all of the trends that are going on right now things that grabbed my attention that I want to recreate," Poloskey says. 
Poloskey is a 21-year-old junior studying advertising at St. Edward's University. When she's not working hard at school, she's preparing for her future. Though she still has a ways to go before she graduates, she already has a plan for what she wants to do after college. Namely, starting her own business of curating thrifted pieces and selling them.
Though thrifting is something that most of us view as a hobby, or just a way to find clothes, Poloskey dreams of using it in other ways, such as the business that she wants to open.
Most teenagers tend to find their clothes at fast fashion stores such as Forever 21 or Urban Outfitters. When they do stray towards other stores, it tends to still be on-track with whatever trends are popular at the moment.
For Poloskey, fashion is what she uses to express herself. Anyone who sees her around campus is always quick to say what a unique style she has. It hasn't always been like this. . 
"I got into thrifting my sophomore year of high school. I got into it because at the beginning of high school, I feel like it's really easy to not know who you are and to just be exploring constantly," Poloskey says. "So I kind of just ushered into this preppy sort of sports group and lost a lot of my individuality. But once I started thrifting and finding fashion, I felt like my authenticity grow and I felt more like myself."
Poloskey's authenticity not only shows in her outfit choices, but in her demeanor. Polosky is nothing but sweet during the time at the thrift store, bashfully accepting compliments from passersby as she tries on different outfit combinations.
Despite already receiving compliments on her daily fashion, Poloskey has bigger aspirations and turns to look at others, such as Margaret Zang, who is doing what she dreams of doing for inspiration. 
"She is kind of a do-it-all-yourself kind of gal like multifaceted, really successful creative director, films, photography, stylist. She's worked with a lot of brands and is doing a lot of the things that I want to do in the future," Poloskey says. 
In her ideal world, she would go around picking out thrifted pieces and putting them together to put up on her website as a way to inspire people to cultivate their own fashion vision, as well as the pieces being available for purchase. Poloskey even sees herself delving into the world of original fashion design or making her own cosmetics line. Above all, she wants people to see fashion as a way to channel their own style and confidence. 
"I want it to be very artistic," she says. "I want to show people that fashion really is a true art form. I want them to feel like they're buying these pieces and empowering themselves through it."
It's safe to say that we can all look forward to the day that we can find ourselves dressed in a Poloskey original. Until then, it'll be enough just to see what kinds of gems she puts together for herself. 
Leave a Comment
About the Writer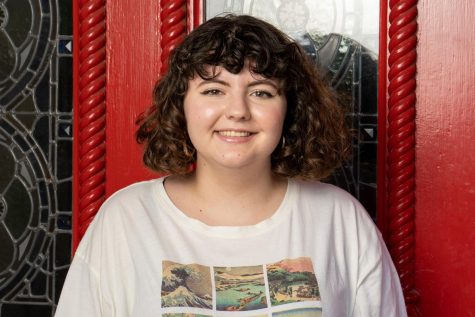 Sierra Rozen, Life and Arts Editor
Hi! My name is Sierra Rozen and I'm the Life and Arts editor. I'm a senior Communication major, with double minors in Journalism and Women's Studies. This...