Ho Ho Hold up… Christmas music deserves to be heard any time of year
Generally speaking, it goes without saying that Christmas time is the best time of the year. From its cozy charm to its touching tradition, this holiday has consistently proven to be a special season. With countless reasons to fall in love with this holiday year in and year out, it's not surprising why people are in such a rush to get to this decorative day as soon as possible. 
So, why are some humbugs upset when they hear Christmas songs a few weeks before December even begins?
The Christmas spirit and all the wintery warmth that comes with it should be embraced when its music is played in stores, even if it's being played in November. Maybe people are upset at the fact that it is being played the minute Halloween ends and completely disrespecting Thanksgiving. 
Or maybe they're upset that these jolly tunes are taking away from the thought of loved ones rejoicing around a delicious turkey and mountains of mouth-watering sides. 
Either way you slice it, these attributes of togetherness, feasting, and fellowship can all be applied to Christmas. Not to say that Thanksgiving is a worthless holiday that's slowly starting to emphasize the consumerism that makes up Black Friday. But the holiday spirit that lives through Christmas melodies deserves to be celebrated as soon as the calendar strikes November. 
The impact that the winter holidays have on those that celebrate it is like something that words can't describe. The nostalgia of iconic Christmas movies mixed in with comforting hot cocoa on a chilly winter evening is something that people wait for all year. The same can't be said about Thanksgiving as it takes a notable backseat to Feliz Navidad. 
The instant nostalgia that comes with giving along with the catchy songs that grace the aisles at your local grocery store is something to smile about instead of whine about. So the first thing to do to embrace the inevitability of the holiday cheer is to enjoy these songs as soon as possible. 
They will make you less vulnerable to being the Grinch of your friend group.
Sure, we all love and look forward to a massive homemade meal with the vibrancy of autumn leaves surrounding our homes. And yeah Thanksgiving is generally one of the most anticipated seasons of the year. 
But that's no excuse to disregard the liveliness that comes with these joyous melodies and hate on how early they're being played.  And there is certainly no room for any negativity for a season that is meant to spread so much joy among people.
So rather than worrying about the timeliness of when these songs are being played, people should let others enjoy this time of year and even join in on the holiday jingles. 
Leave a Comment
About the Writer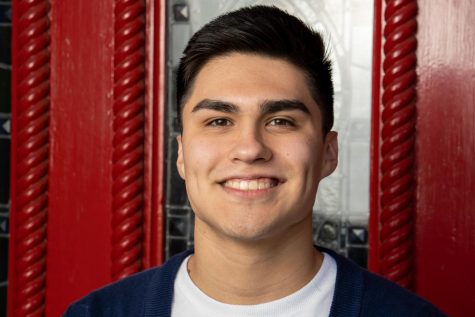 Adrian Gonzalez, Sports Editor
Hey! My name is Adrian and I am the sports editor for Hilltop Views. I am a senior Writing & Rhetoric major with a concentration in Journalism &...