'Knives Out' backstabs viewers with twists, turns in Rian Johnson whodunit film
Hang on for a minute...we're trying to find some more stories you might like.
Backstab is apparent when the knives come out. Rian Johnson's whodunit "Knives Out" is a spectacular blending of comedy and mystery. Starring Daniel Craig, Chris Evans and Ana de Armas, "Knives Out" takes you on a roller coaster from start to finish. It's the thrill ride of the year, and a must-see during the holiday break.
"Knives Out" follows the investigation of Harlan Thrombey's (Christopher Plummer) death after Benoit Blanc (Craig) is anonymously hired to investigate what happened. It was initially reported to be a suicide, but Blanc suspects foul play. Marta (Armas), Thrombey's nurse and confidant, becomes Blanc's partner in the investigation because of  how close she was to Thrombey and for her condition she has where she throws up at the thought of lying. 
One of my biggest surprises going into "Knives Out" is how funny it is. Its comedic moments are perfectly sprinkled throughout the film. "Knives Out" isn't funny enough to where it is a straight parody of the murder mystery genre, but it also has a lightness to it that makes it enjoyable. The movie does not take itself too seriously, and that's what helps the comedy work. It's a perfect balance that's executed extremely well. 
If there were an award for best voice work, Craig would be up there with Robert Pattinson and Willem Dafoe for the year's best accent and voice work. Craig, as a British actor, nails the Kentucky drawl perfectly as Blanc. His accent never takes you out of the film and is perfect for his character. 
The storytelling is just impeccable. Johnson gives you enough clues to think it's one way and then throws it for a big 180 by the end. His ability to bring you along on the investigation is impeccable. There is never a dull moment in the film, and as Jamie Lee Curtis says, "I'm just waiting for the big reveal." 
Johnson does this so beautifully; he keeps you on the edge of your seat until he reveals what's going on. Keep an eye on everyone because there are so many red herrings and misdirections that Johnson includes to keep the audience from guessing what is happening. He plays with the audience as if he is the dungeon master in a "Clue" version of "Dungeons and Dragons."  
If you are looking for something to do this Thanksgiving, go see "Knives Out" with the whole family. It's a laugh out loud comedy murder mystery that takes the classic whodunit and puts it into a modern-day setting for the entire family to enjoy. Though be warned, there is talk of immigration politics. If you're afraid that will spark political discussion at the dinner table, then this is the best Friendsgiving movie to see. 
About the Writer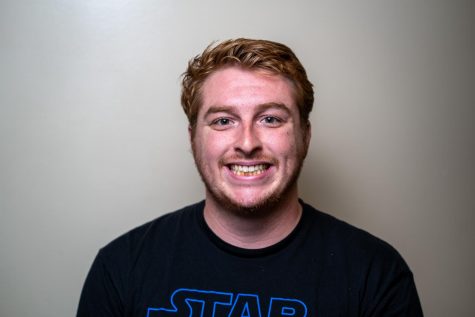 John Walker, Life and Arts Editor
MY name is John Walker, and I am one of the Life and Arts Section Editors. I'm a senior Communication major and journalism minor from Los Angeles, California....