Kacey Musgraves shines in glittery, star-studded Amazon Prime special
If you ever thought of Kacey Musgraves as just another country pop star with some bedazzled outfits up her sleeve, it's time to reevaluate that thought. "The Kacey Musgraves Christmas Show" has single handedly established her as a Christmas icon.
Because the special was released less than a month before Christmas on Amazon Prime, it's perfect to watch now to get excited for the holiday. I could even see it being good to watch on Christmas Day to really soak in the holiday spirit. 
Although Musgraves released  "A Very Kacey Christmas" in 2016, most fans still weren't expecting her to put on a full-blown Christmas special with multiple musical guests, which holds up nicely compared to the album. 
And yet, from the very first song (a duet of "Let It Snow" with James Corden), it just seems to make sense. As Musgraves enters the room in a pair of gingerbread man-inspired overalls, mic in hand gently singing the tune, she seems right at home.
Not only does the show contain musical numbers, but also moments of comedy with most of them  narrated by Dan Levy. For example, when Musgraves and Corden are singing the aforementioned song, snow keeps blowing through the windows and interrupting the performance. 
Each song takes place on a different set and is filmed in a way that makes it look like a live recording of the event. In-between and during the tracks, viewers get glimpses of a television crew broadcasting the show, making the special seem even more cozy and lifelike. It's basically Musgraves' campy version of an old-school Christmas special. 
With a long list of celebs being a part of the event, it seems like it would eventually get overcrowded. However, each guest blends seamlessly with Musgraves and adds a little something special to each segment. 
Some stand-out duets include Leon Bridges on "Present Without A Bow" as they dance on the ceiling while harmonizing perfectly, and the original song "Glittery," performed with Troye Sivan. And like the track title indicates, the room, Musgraves and Sivan are decked head-to-toe in glitter.
The only downside to the special is that there's no clearly defined plotline, unless you count the fact that Musgraves is trying to prepare for hosting Christmas. To be fair, I wasn't going into this expecting world-class acting and storylines.
Instead, I came for Christmas tunes sung by some of my favorite artists and I was not disappointed. 
If you're in need of some Christmas cheer as December starts, do yourself a favor and dial up your Amazon Prime to view the holiday spirit contained in a show.
About the Contributor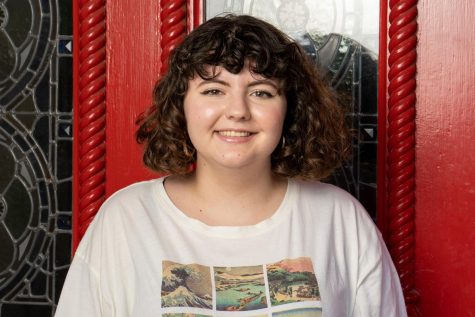 Sierra Rozen, Life and Arts Editor
Hi! My name is Sierra Rozen and I'm the Life and Arts editor. I'm a senior Communication major, with double minors in Journalism and Women's Studies. This...