Survival of the Stylish: A decade of trends courtesy of the 2010's
Throughout the decade, many fashion trends have stuck around in our generation while others barely lasted the year. While we might not be trading Silly Bandz or putting three different colored Chelsea boots in our shopping cart right now, we can still look back and admire the trends each year brought in all of their hideous glory.
2009
In 2009, Ed Hardy was big. Everyone was rocking those tattoo-like sleeveless tops with neon headbands. Standing out from the crowd was huge this year, attention-grabbing pieces ranged from bejeweled tops to stacks of Silly Bandz. Colorful, unique pieces were, and will always be, in.
2010
Everyone was putting on their feather earrings and hair extensions in 2010. It was a time of exploration, new beginnings and leather jackets. We wanted to be cool, but cool was something we were still trying to define. Nevertheless, leather jackets remain a staple in everyone's closet. Feathers, not so much.
2011
2011 was the year of DIY. It was a time of dip-dyeing your hair with Kool Aid and having sweet-smelling hair for days. If your hair didn't have a strong stench of watermelon, there was no place for you this year. Maybe you could've redeemed yourself by wearing one of those skull-print scarves or sporting some big bangles. But like most things, these trends didn't stand the test of time.
2012
"The Hunger Games" was big in 2012, as was KONY and the fear of the world ending. Because of this, everyone seemed to take after the esteemed Katniss Everdeen. Green military jackets and Katniss braids were huge. And like Everdeen, these trends have lived despite it all.
2013
In 2013, metallic embellished boots were what everyone was talking about. Think Balenciaga. Now, those were something. Because these boots weren't super affordable, people made up for it by dressing up sweatshirts or wearing all white (even after Labor Day.) This year broke every rule, but we loved it. These trends will continue to be trends for as long as fashion is still a thing.
2014
Showing a little more skin became pretty popular in 2014. Peek-a-boo cutouts and crop tops thrived. When the weather dropped, we'd cover up our artwork with a bomber jacket that hardly ever kept us warm. While bomber jackets seem to have fallen off the planet, crop tops are still going strong and peek-a-boo cutouts have simply evolved to really high slits.
2015
2015 was the year of button-up skirts and off-the-shoulder tops. Think fall looks and colors. It was also the time of Chelsea boots and Nike Roshes. Think Harry Styles. This year's trends were cute for the time but didn't quite make the cut. However, Styles is still in and so is showing off your shoulders.
2016
Being mindful became more of a thing in 2016. It was a year of self-care sprees at Lush. Comfort was huge. Bralettes and ripped denim were seen everywhere. Being comfortable and soft was really popular this year. To spice things up, chokers also made a comeback. Wearing sensible clothing and chokers is still a thing today, but I'm not going to say whether it is a good or a bad thing (It's a bad thing).
2017
2017 was the year of thrifting. Being sustainable became cool, which happens to be my favorite trend of the decade. Berets and newsboy caps were really cute. So were heeled white boots. And puffer jackets. Being different was cool again, which seemed to be pretty rare this decade. I'm happy to say these trends have made it through to today.
2018
Skinny jeans were finally over in 2018. Everything was either high-waisted or baggy. Gingham print was huge this year. Sequins, and a lot of them at that, were also a thing.
2019
2018 paved the way for 2019, which marked the rise of the e-girl. Take a look around and you'll see a flood of chunky sneakers, gothic layered chains and colorful pants that seem to be two sizes too big. While I can't say for sure that these trends will make it to next year, we'll definitely see them come up again in the years to come.
Leave a Comment
About the Contributor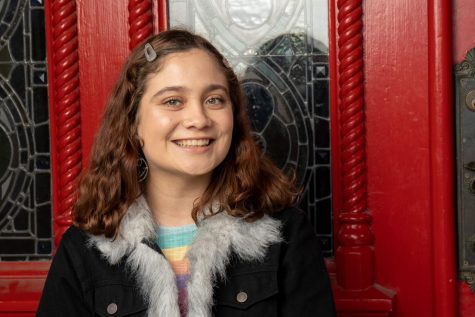 Sammy Jo Cienfuegos, Viewpoints Editor


Hey ya'll! My name is Sammy Jo Cienfuegos and I'm one of the two Viewpoints editors. I'm a senior Writing and Rhetoric major, with an emphasis in Creative...