Administration addresses sexual misconduct protocol following #YourMoveSEU movement
On Dec. 5, the St. Edward's Student Government Association (SGA) and It's On Us (IOU) hosted an open discussion forum with a panel of university administration officials to address the #YourMoveSEU hashtag that sparked on social media this past weekend. 
#YourMoveSEU started at the end of the university's Thanksgiving break to call-out marketing material posted to the school's official Instagram featuring a student accused of sexual assault. The photo was deleted within hours after a comment concerning the allegations at hand was posted across social media platforms. 
Since then, a flurry of tweets under the #YourMoveSEU hashtag have chronicled testimonies, frustrations and calls to action from students concerned with the way sexual misconduct is handled on campus. 
Re: #YourMoveSEU, thank you for bringing these concerns to the university's attention. It's everyone's responsibility to create a safe, respectful learning environment. At the request of SGA, Lisa Kirkpatrick, VP Student Affairs, met with student leaders today to hear concerns.

— St. Edward's University (@stedwardsu) December 2, 2019
Panelists at the forum included Vice President for student affairs and Title IX Coordinator Dr. Lisa Kirkpatrick, Dean of Students and Title IX Deputy Coordinator Steven Pinkenburg, UPD Chief Homer Huerta, Director of Health and Counseling Center and Title IX Advocate Program Coordinator Dr. Vanessa Pena, Vice President of Marketing Christie Campbell and Diversity and Inclusion and Title IX Deputy Dr. Melissa Esqueda. Also in attendance were Senior Director of Sexual Assault and Health and Human Services at SAFE Alliance Juliana Gonzales and university attorney, Ed McHorse.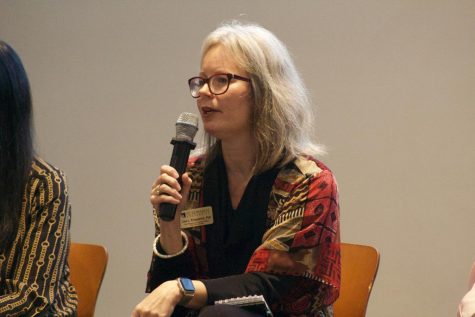 Kirkpatrick says that the university has appointed an external party to formally investigate the allegations made on Twitter. However, she says that the problem is societal and "won't be fixed overnight." 
"Having said that, we also know it's not good to put a bandaid on a wound just to fix it and move on," she added. "I also will be set in working with this work-group of campus stakeholders, students, and subject matter experts in the field, that we might be able to create short term, midterm and long term commitments to change."
Students in attendance retaliated, stating that more immediate change is necessary. 
The two-hour event changed venues to accommodate for the expected turnout, yet was still unable to house over 300 students, faculty and alumni in attendance. Topics ranging from student safety, university accountability, accessible resources for survivors of sexual misconduct and potential revisions to the student code of conduct were covered.
Junior Lauren Louk says that the administration isn't doing enough to account for these areas.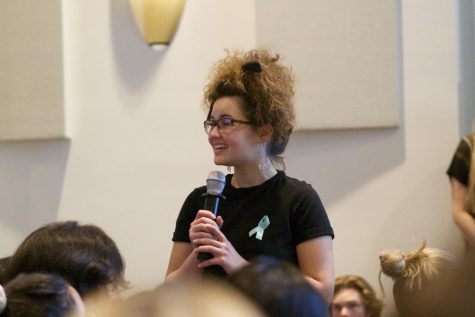 "What we seek to do is create by-law or clause to be added to the section on sanctions and student code of conduct on page 52." Louk wants the university to treat "gray areas" within the student handbook with more concern, even if they are not considered serious offenses.
Louk, along with seniors Kira Donnelly and Sydney Pegram, started the conversation by vocalizing their concerns on social media and creating the aforementioned hashtag. Donnelly also started a petition demanding transparency from SEU administration on Title IX. 
The petition states that upper administration has "failed to uphold the Holy Cross values upon which the school was founded" by promoting mental health, well being and Title IX while simultaneously, "supporting predatory students and silencing those affected by these perpetrators." The petition has garnered 1,446 signatures of their 1,500 goal at the time of publishing.   
The forum followed a standard Q&A format between the audience and panelists. Eventually, the students began to grow restless with the long queue of questions. 
After a student shouted "where's President Martin?" at one point during the discussion, the auditorium erupted in agreement. George E. Martin, president of the university, was not in attendance.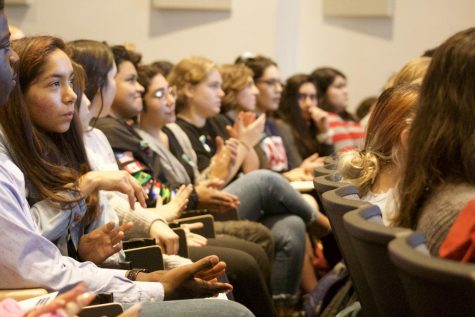 "I think that he was being thoughtful about this being your space, but if you want him to be here we can invite him," Kirkpatrick responded.
However, students expressed that they shouldn't have to ask Martin to attend such events and that he should be present on his own volition. 
After the panel, the audience was encouraged to submit questions to be answered in a report released later this month. SGA President Leslie Rios told Hilltop Views that her cabinet and IOU will continue to work with the administration through the winter break to hold them accountable and begin organizing the work-group.
The report will be sent out around Dec. 20, according to SGA Vice President Athina Castanon.
"Regarding comments from which #YourMoveSEU started — no criminal allegations were reported to the University Police Department," Police Chief Huerta said. "All reports of criminal activity, sexual misconduct or any general safety issues are taken seriously by university police and are handled in accordance with well-documented investigative procedures. The safety and security of our staff and students is our paramount concern."
As a reminder, anyone can submit a tip, anonymously or otherwise, to the University Police Department by one of three methods: calling 512-448-8444, submitting a crime incident report or submitting an anonymous tip. More information can be found on the Campus Safety web page.
Leave a Comment