SEU cheer finishes 9th place in nationals, senior earns local award
On Jan. 18, the St. Edward's University coeducational cheer squad traveled to Orlando, Florida, where they competed against 15 other schools in the UCA College Cheerleading National Championship, hosted at ESPN's Wide World of Sports Complex. The Hilltoppers made their presence known as they finished in ninth place and earned themselves a zero deduction routine.
A zero deduction means that the the team executed their routine with no stunt fails. Achieving this feat doesn't come easy. The team had to train intensely for months on end, with essentially no winter break, to ensure that their two minutes and 30 seconds on the mat were executed flawlessly. 
SEU senior cheer captain Desiree Davis was one of the driving forces behind the squad's impressive performance as her leadership and skill resulted in precise synchronization. In fact, it was her overall technique, mat talk and crowd engagement that earned her the Raising Cane's Player of the Week award. 
Though the recognitions are rewarding, Davis says that guiding such an ambitious and tight-knit team made the trip to nationals well worth it.
"It was really nice to get recognized for all the work we've done for that award. I felt like the whole team won the award, not just me," Davis said. "I've just been trying to lead by example by helping like its a technique and working to succeed. We all come from different skill levels and we have to rely on that technique and focus and work together to achieve stuff."
The team's route to nationals came with its fair share of obstacles. Davis herself competed with a torn ACL she suffered in October. 
Ranging from dislocated fingers to concussions, junior captain Jamie Malone said the cheerleaders used every ounce of will-power to continue their journey no matter the challenges.
"We practiced, basically, months for that one shot … That's the whole thing of having a common goal. We put our heart and soul into it."
Coach Talia Russell, fifth-year head coach, has helped build the program to what it is today. The program even earned the Program Improvement Award for its notable development through the years.
Russell says that whether it's cheering at games or competing in nationals, representing the university with pride, especially at this level, is always special. 
"The team knows we are ambassadors of the University, so it's extremely important that we represent St. Edward's as best as we can. Part of that is looking uniform as a team and the other part is our skill level," Russell said. "I appreciate the support we get because the team really does put in a lot of work throughout the year, most of the time while no one is looking."
For now, the squad will continue cheering at basketball games and preparing for Homecoming weekend. Hilltopper cheer will also host tryout clinics for the upcoming school year Apr. 24-26 for anyone interested in becoming a part of the team.
Leave a Comment
About the Contributor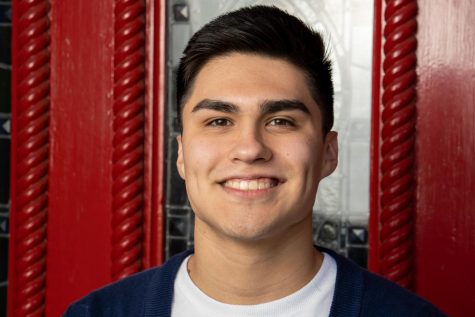 Adrian Gonzalez, Sports Editor
Hey! My name is Adrian and I am the sports editor for Hilltop Views. I am a senior Writing & Rhetoric major with a concentration in Journalism &...