COMMENTARY: McGregor's victorious return shouldn't distract from past misdemeanors
On Jan. 18, Conor "The Notorious" McGregor made his return to the UFC in Las Vegas with a stunning 40-second knockout victory over American Donald "Cowboy" Cerrone. But on a night in which the Irishman reminded the sporting world of his fighting talent, were we just as quick to forget some of his past misdemeanors as he was brutally swift in dismantling his opponent?
As he stumbled away from his victim, virtually untouched and less than a minute from the opening bell, McGregor climbed atop the cage walls draped in an Irish flag, lapping up the plaudits. Yet, since his brutal loss to Khabib Nurmagomedov 15 months ago, McGregor has been in the news for all the wrong reasons. 
McGregor was at the center of two sexual assault charges in 2019, with the second as recent as October. On this occasion, it was reported that "a woman in her 20s was sexually assaulted in a vehicle parked outside a Dublin pub." The two reported assaults came on either side of another shocking event of McGregor's turbulent 2019, however.
On April 6, video footage inside a Dublin pub showed McGregor punch an elderly man in the face for declining offers of his drink. McGregor pleaded guilty and in November was fined $1,116.16 for the offense, capping off an absent competitive year in which he was also arrested in Miami for smashing a fan's phone outside a hotel.
Immediately after an admittedly impressive comeback win, it seemed fans were either too quick to forget their hero's wrongdoings or simply didn't care. A cynical undertone lingered that has too often become an accepted part of elite sport. For many, their actions away from the spotlight are insignificant in comparison to their sporting success.
Seemingly, popular opinion stated that it was good to have McGregor back in the sport, performing for crowds both inside and outside the cage before and during the fight. UFC 246 was an evening befitting the man who would inevitably steal the headlines — with the main event itself brilliant and anticlimactic in equal measure. 
Watching firstly as a spectator, the performance was undeniably dominant. The Notorious' trademark swiping knee and elbow combinations were noticeably damaging, and he was too powerful for the waning Cerrone. However, on reflection, something about the immediate clamor and celebration of McGregor didn't sit right with me.
Understandably, reporters didn't ask probing questions about McGregor's legal interactions in the past 12 months, but there appeared something absent from the narrative. On a night characterized by a deft combination of power, speed and fighting technique, you could mistake McGregor for a good role model and an upstanding member of society as well as a top sportsman.
Based on 2019, it can reasonably be argued he is not.
Leave a Comment
About the Contributor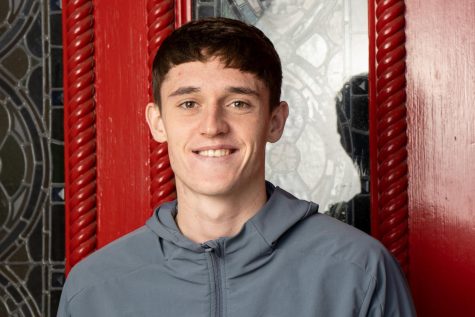 George Murray, Sports Editor
Hi! I am George Murray, one of the Sports Editors at Hilltop Views. I am an english literature major and journalism & digital media minor graduating...