Esports varsity team doubles in size, promotes gaming among local schools
First established last fall, the St. Edward's University Esports program has rapidly risen to one of the fastest-growing varsity sports on campus, thanks to their all-new gaming arena and management by coach David Willis.
"The Esports club started out at somewhere between 30 to 40 members on Discord when I first came in. That Discord server, which is like our social media platform, has grown to closer to 80, so we've seen some cool numbers grow there. Our varsity program started out as six students in the fall, we're up to 15 now," Willis says.
Willis says that there are three teams competing this semester, each filled with active members who practice in the gaming arena to hone their skills.
"The room has been super active, a lot of regulars come here between classes now," Willis said. "The current schedule for the room has about fifteen hours of actual practice a week, so the Rocket League team practices on Wednesdays, the League of Legends team practices on Thursday and Friday, the Hearthstone team practices on Monday and Wednesday, and each of those practices is a three-hour block that I am here for."
In addition to the internal expansion of the St. Edward's University program, the success has extended beyond the university, with strides being made to promote Esports locally among the public school districts of Austin and San Antonio.
"So, Manor ISD, Round Rock ISD, Austin ISD, of course, and even San Antonio ISD have all reached out to our program here at St. Edward's to see 'Hey, what are you guys doing with Esports?' and 'How do you do it over there?' because they're looking towards us as a guide on how to build Esports wherever they are," Willis said. "So, I've been in a lot of conversations with administration from those school districts and with the people who are running their Esports clubs there and helping them get their program started up."
Freshman player Rebecca Melnick, who occupies the support role for the varsity League of Legends team, remarked on the challenges from the previous semester and the program's intentions for Spring 2020.   
"It's our first year. I know everyone's just trying their best to get where we can with doing our best," she said. "I'm actually pretty excited to find out how we do against other schools in the southern region."
Further, Melnick recognized individual difficulties.
"There are stereotypes of female gamers. It's kind of hard for me because I'm on the support role which is the stereotype. It's setting aside those standards and kind of making my own which is important to me because I'm the only female," Melnick said. "And at the same time," she added,  "I'm self-conscious. Cause what if I mess something up? And then other people are like, 'Well, it's 'cause you're a girl.'"
Overall, the players and their teams have seen substantial improvement in their gaming results.
"We had one of our League of Legends players grow from platinum to diamond. That's to say that they went from the top 10% of the population to being in the top 2%. So, he's gotten significantly better with time" Willis said. "That's not unique to just him. Every single one of the players has had a lot of growth lately … Looking forward to other players on the team being able to achieve something similar."
Leave a Comment
About the Contributor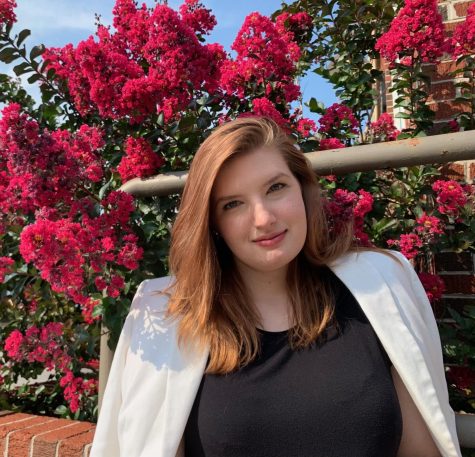 Audrey Cahak, Copy Editor
Audrey is a senior writing and rhetoric major with a concentration in creative writing and a minor in journalism. She started writing for Hilltop Views...