'Miss Americana' fills in the 'Blank Space' fans of Taylor Swift have yet to uncover
Taylor Swift has always been somewhat of an enigma in the music industry. She's transparent in her songwriting, but never names the subject. For the longest time, she kept quiet about her political views while still hinting at feminist values. She even disappeared out of the public eye for a year when her fame was at its peak.
But now, Swift is pulling back the curtain and inviting fans to look inside her world.
In her new Netflix documentary, "Miss Americana," Swift offers a surprisingly candid look into her life throughout the past two years. It shows her divisive step into politics and how hard living under a microscope can be, destroying many of the misconceptions about her.
Viewers get a small peek into the year she removed herself from the public. Never wanting to be too outright, which is to be expected after almost a decade of comments on her dating life, we only ever see snapshots. A man in a baseball cap that Swift runs to after a concert, or a hand holding hers as she drives; sleuths are almost certain it's longtime boyfriend Joe Alwyn.
It feels like she is finally letting long time fans have a look at what lies beneath an almost perfect facade. Even though Swift has become more carefree in the past few years, for the longest time it seemed like all we saw was a woman trying to be what everyone wanted her to be.
In the most vulnerable moments of the film, Swift breaks down over the infamous Kanye West feud, along with how being in the public eye for so long manifested itself into problems that seem to border along having an eating disorder.
It can be easy to make fun of celebrities since we place them on such a high pedestal. We think our words will never reach them. In Swift's case, she took everything personally: from comments about her dating life to her weight gain. 
One of the most important moments in the documentary comes when Swift decides she's had enough of staying out of politics. After what she went through with her sexual assault trial, Swift cannot bring herself to stay silent during the 2018 midterm elections and decides to publicly endorse the Democratic candidates, despite backlash from her management team.
All of these moments paint Swift as something that the media never really saw her as: a woman with emotions, who knew her impact despite her every move being carefully watched and dissected.
If there's anything to take away from this film, it's that we never really knew who Swift was before this. That is to say, I can happily anticipate more of this emotional candidness from the singer. 
Leave a Comment
About the Contributor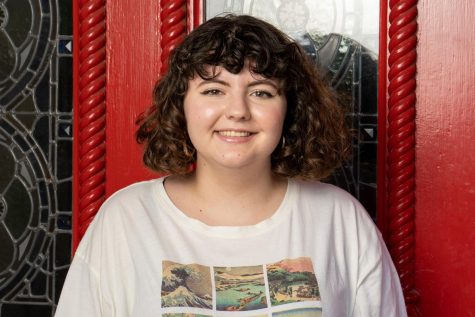 Sierra Rozen, Life and Arts Editor
Hi! My name is Sierra Rozen and I'm the Life and Arts editor. I'm a senior Communication major, with double minors in Journalism and Women's Studies. This...