'The Rhythm Section' fails to find footing in crowded spy genre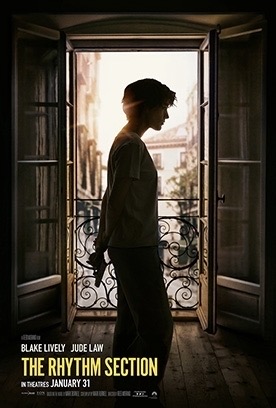 Hang on for a minute...we're trying to find some more stories you might like.
At long last we have finally come to the end of the black hole known as the movie month of January — where films of any genre go to die and never recover. However, January did have its exceptions that proves the rule, with movies such as "The Gentlemen," and "Bad Boys for Life," dominating the box office with glowingly positive reviews. 
The final movie of the month that attempts to coincide with the rest of the bunch is Reed Morano's "The Rhythm Section," an spy thriller dealt with numerous push-backs on release dates, but seeks out to hopefully entertain the masses for some decent amusement on screen. 
Unfortunately, this movie reveals itself as yet another example of why January is the burial ground of the movie season. I say this because, despite its production problems and potential it could've brought to the action-spy genre, it all boils right down to the fact that "The Rhythm Section" is just not a good movie, at all.
This latest action movie starring Blake Lively (recently featured in the shark thriller "The Shallows") is based on the 1999 novel by Mark Burnell of the same name. This was also a film that was pushed back during its production from February 2019 to January 2020 as Lively reportedly injured her hand while performing a stunt and needed medical assistance.
Lively stars as Stephanie Patrick, a British woman succumbing to drugs and prostitution years after hearing the news that her family died in a tragic plane crash despite the movie never actually showing us how she got to this point. 
Things shift to an entirely different direction when a journalist (played by Raza Jaffrey) reveals that her parents didn't die by accident. Along with the help of a former MI6 agent (Jude Law), and an espionage expert (Sterling K. Brown), Stephanie goes down the path of vengeance as a full-fledged assassin to execute those responsible.   
First and foremost, one of the reasons why the movie doesn't work is thanks to an uninspired and bare-bones screenplay. The film has nothing going for it in terms of storytelling because the movie's plot twists, story beats and sub-plots are predictable. 
Usually, in a movie about an assassin, you would think that it would go for a different and unique approach to the genre. Take 2011's "Hanna" for example. The film does have the indistinguishable plot elements you would see in the "Bourne" franchise, but the film also provided its own stylistic angles in a story about a character-turned-assassin and offered characters to connect to. 
With "The Rhythm Section," however, it gets to a point in the film where the execution is so linear and basic that it wouldn't take any precognitive ability to figure out what the main character is going to do next, how relationships between the characters will play out or even discover who the main villain is by the end of the film.
It also suffers from the fact that Patrick isn't likable in any conceivable way. Her performance is uneven at points. On one hand, she does take control of the part, but on the other hand, the only direction she's given is to either stare blankly, get aggressive or sulk. 
If there is anything positive I have to give credit for in this film, it's Law's  performance. It's gripping, hardened and well-performed. His character is the most interesting in the film, as an ex-operative who dealt with an unfortunate event in his life that led him to resign and be exiled (which would be an awesome storyline for a movie).
Brown is actually all right for the most part. In addition, there are some action scenes that aren't too shabby; the fist fights are raw and brutal, and one highlight of the movie is a car chase filmed within a single tracking shot. 
It's a movie that just lies there, begging for people to care.While the film has its virtues on display, it isn't enough to save it from an inane plot, frantic editing, uneven pacing and a main character that isn't close to being endearing.