Multiple stabbings spark dispute between Mayor Adler and Gov. Abbott over homelessness crisis
On Friday, Jan. 31, a man was stabbed in the elbow off of Eighth Street by what one witness believes to be a homeless man.
On Jan. 23 and 24, a random stabbing spree occurred in downtown Austin; the suspect is homeless woman Raeshala Morris, 33. According to CBS Austin and APD, "one of those stabbings was in the 600 block of Neches Avenue, another was outside Burnside's Tavern, on 6th Street." Morris is facing charges of aggravated assault and is now being held at the Travis County Jail. 
Prior to these stabbings, on Jan. 6, a homeless man stabbed an employee at Freebirds on South Congress. 
This has brought Governor Greg Abbott to blame "inactions by city officials" for the rise in crime and violence in Austin as well as Austin City Council revoking the homelessness camping ban in June. 
Mayor Steve Adler responded saying "There is no indication that we would accomplish doing anything about violence if we were to undo the ordinances that we passed in the summer, so I don't expect the city to do that because there's been no demonstrated link." 
In another response Adler said he and the Austin community will continue to support the homeless population, and refuses to "demonize people" which he says "makes it harder for the community to actually help and give support to people that need it."
In regards to the most recent stabbing, Abbott tweeted that "Austin's policies are not compassionate for the homeless or anyone else…they are dangerous for everyone" and that "you can expect the legislature to once again override Austin's reckless policies." 
Following that tweet, Abbott shared his four-step plan to "fix" homelessness in Austin. This included placing public safety first, opening large shelters that accommodate 200+ people, providing mental health and drug addiction help and job training skills, and focuses on long term housing. He ended by saying that "Austin doesn't have the leadership to do this."
But in November 2019, when Abbott ordered TxDOT to shut down over a dozen encampments which housed many homeless people, even more people identified as homeless and began searching for shelter. 
Following this order, Abbott then chose a lot near the Austin-Bergstrom International Airport for those who had to relocate due to the cleanups. However, there have not been updates on the plan since. Although the governor planned this in terms of temporary housing, the Ending Community Homelessness Coalition (ECHO) in Austin is attempting to raise funds for permanent housing. 
The City of Austin and its homeless population now await the plans to follow and a solution between lawmakers at the state and local level.
Leave a Comment
About the Contributor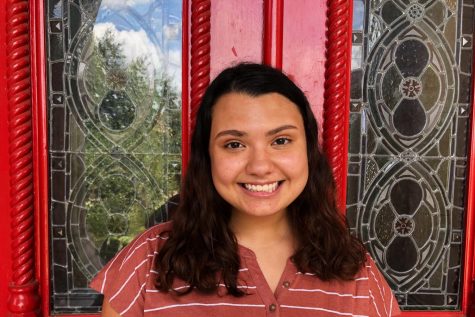 Nina Martinez, Editor-in-Chief
Hey y'all! My name is Nina Martinez, I'm a junior Writing & Rhetoric major with a concentration in Journalism. I aspire to one day edit for The Atlantic...