Kobe Bryant's legacy deserves respect despite past controversies
The sports world was turned upside down at the news of the death of legendary basketball player Kobe Bryant on Jan. 26. Bryant, a five-time NBA Champion, and 18-time All-Star died in a helicopter crash with his young daughter Gianna and seven other passengers. They were all on their way to a basketball game for Gianna and her teammates who were on board when the helicopter crashed in Calabasas, Calif. His death was so sudden and tragic that it stunned the world.
Bryant's accolades go far beyond some of his basketball accomplishments. Bryant was a father of four girls, an Academy and Emmy Award winner and the founder of the Mamba Academy, a state-of-the-art training facility for young athletes. But above it all, his biggest accomplishment was coaching and mentoring his daughter Gianna. As he transitioned out of basketball I can not think of a more iconic Los Angeles sports star than Bryant.
As a native Los Angelino, Bryant meant so much to the city and to Laker's history. It's no surprise that he has received much praise in the wake of his death. I've never been a  basketball fan but growing up in Los Angeles, it was impossible to escape Bryant and the Lakers during basketball season. There was never a school day when someone didn't shoot something into the trash and yell out "Kobe," and as a summer camp counselor, the kids I work with still yell it out. What we remember most about Bryant is his relentless dedication to basketball. 
On the court, he dominated everywhere he went. Bryant was a force to be reckoned with; his Mamba Mentality kept him in games even when things were at their bleakest. He is fourth on the NBA all-time scorers list, only passed by Lebron James the day before his death. He was a four-time all-star MVP and two-time finals MVP. His most defining moments were his 81 point game and making two free throws immediately after tearing his Achilles. Business Insider also put together a list of records that Kobe still holds. 
Bryant transcended the game of basketball, became a global icon and had a long and successful career. He spent his first few years of retirement out of the public eye to focus on his family and resurfaced with his daughter at games. Since then, he has been an avid supporter of his daughter and women's basketball as a whole. If there's any question as to whether or not he deserves the praise, there are so many answers to that question. 
Bryant's death was so sudden that it became such a global story as soon as TMZ reported it. The night before Kobe was on Twitter congratulating current Lakers' star LeBron James on passing him on the all-time scorers' list. 
Bryant had a 20-year career where we watched him grow from a 17-year-old kid to a 34-year-old man. We watched him succeed and play at his greatest potential and watched him at his lowest lows. The basketball world and the sports world watched him grow up. 
There is one big black spot on Bryant's long career in the NBA. Bryant's 2003 sexual assault case was brought up again in the wake of his death. While it is a valid point bringing it up in the immediate wake of his death should be ashamed of themselves. Those who feel strongly about it had eight years to petition the NBA and the Lakers organization to remove Bryant from the league and another eight years after his career to keep this in the public eye. To bring this up in a time when we are mourning to delegitimize his death is despicable. 
There is a time and place for that conversation to happen and the first few hours of his death were not the place. Fans, commentators, teammates, coaches and people close to Bryant used the time to remember the good times and everything that Kobe meant to them and the game of basketball. 
His sexual assault case is a big part of his career but no one was going to bring it up as suddenly as his death. I applaud Washington Post writer Felicia Sonmez, who tweeted a recent article about the 2003 case, for her courage for standing up for what she believed was an injustice and a crucial part of Bryant's story. The tweet has since been deleted, but to those who were mourning, the tweet feels like a sharp knife driven through the heart.
There is no good answer as to how to incorporate a celebrity's darkest moments in the conversation in the wake of their death. In a recent Times article written by Evette Dionne, she talks about Bryant's sexual assault case after his death. Dionne wrote, "But feminism, at least the tradition I follow, makes space for redemption too. Only Bryant's accuser can decide if she forgives him, and it's not our place to do that work publicly on her behalf. What we can do is complicate these conversations so we can usher in more honesty about who's elevated in the aftermath of a sexual assault and how fame and money insulate perpetrators from being brought to account. We can do this while still acknowledging that Bryant didn't deserve to die in such a manner at such an age and that the people who loved him are grieving."
About the Contributors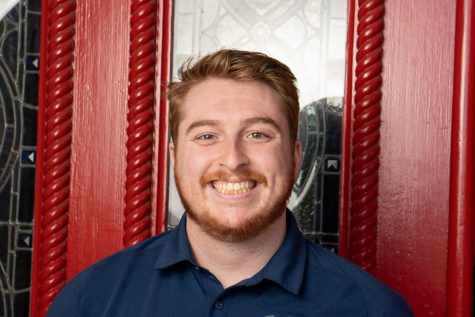 John Walker, Life and Arts Editor
MY name is John Walker, and I am one of the Life and Arts Section Editors. I'm a senior Communication major and journalism minor from Los Angeles, California....