Peer Wellness Champions aim to help SEU students live well, strengthen personal goals
In an attempt to live up to St. Edward's "LiveWellSEU" motto, Peer Wellness Champions (PWC) at the Recreation and Athletic Center (RAC) are helping students learn to live better mentally.
What is the Peer Wellness Champions Program?
Peer Wellness Coaches create Peer Wellness Champions through one-on-one coaching and training. These sit-down meetings allow students to open up and ask for help on matter focusing on strengths and values, succeeding in college, and recognizing the positive things in life and building on them.
Krupa Shah, the coordinator of PWC, and her team of peer coaches aim to provide a program in which students can have peer-to-peer training to focus on all aspects of one's life. The coaches help students take steps to make positive and impactful changes in their lives.
Shah describes the PWCs as "accountability buddies who can help you connect to subject-matter experts/resources on campus who can assist you in your goals, provide you the space to talk and be yourself, help you craft small, attainable goals and are committed to meet and stay in touch with you to be an overall great support system as you navigate your holistic wellness journey."
For students struggling to settle into college or those who simply want to see a change in their well-being, PWC coaches can help "identify, maintain, and/or improve their own well-being by assisting with setting goals, building on strengths, and increasing resilience and self-advocacy," Shah said.
Who are the coaches and what exactly do they do?
The program decided on peer coaches to show students that there is no expert or perfect way to tackle self-care. Having peer coaches brings comfort to students knowing that otherstudents are also learning how to handle college-life challenges and experiences.
The coaches administer this practice through the holistic wellness model, transtheoretical model, motivational interviewing and positive psychology. Throughout these practices of the new program, Shah and her team are committed to evaluating the progress through pre- and post-assessments to better the program each semester. 
The holistic wellness model focuses on one's abilities in the social, emotional, physical, spiritual, environmental, occupational and intellectual levels. For students who seek overall guidance and making personal change, the holistic wellness model guides this process. 
Making life changes can be difficult , so the motivational interviewing process is the method to best sort out insecurities and pinpoint the internal motivation needed. For those wanting to zero-in on the positive aspects of life, the positive psychology discipline helps students name and nurture their strength, find positive emotions and apply those strengths to their lives. 
The PWC Program is striving to help students reach their own solutions with their guidance. 
 "At the end of the day, you are the expert of your own life," Shah said.
Do other schools have this program?
Many campuses nationwide are implementing similar programs for students. At the University of Maryland, the campus' "Wellness Hub" strives to help students create healthy meal plans and provides a safe space to ask and get questions answered on one's well-being. The University of California at Berkeley has an active program and website,  "Berkeley Wellness,"  where students can learn about self-care in all forms.  The University of Pittsburgh has a program called "Healthy U", which helps students "realize [their] optimal state of wellness."
How can I register?
If you are interested in receiving one-on-one support from the Peer Wellness Center, register here.
Leave a Comment
About the Contributor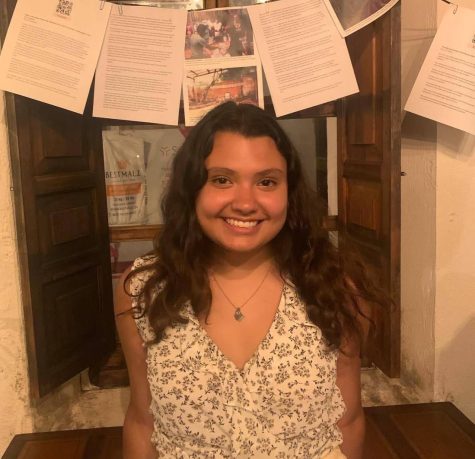 Nina Martinez, Copy Editor
Nina Martinez is a senior at St. Edward's University, earning her Bachelor's in Writing and Rhetoric. Martinez has reported and edited for Hilltop...