Additions in online course offerings create more opportunities for students
Faculty and students discuss outcomes, experiences of online courses
St. Edward's University has been increasing it's options when it comes to online classes. In recent years, more and more classes have become available as an online version, including many religious studies, journalism and writing and rhetoric classes.
According to an article by Illinois Online, several benefits of online courses are increased flexibility in one's schedule, advancements in career and hobbies, lower costs and more choices of course topics.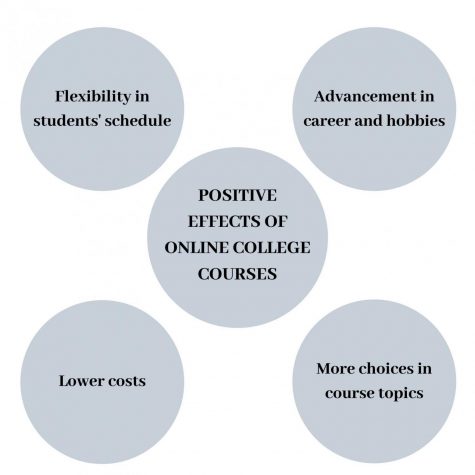 Kyndal Soto is the Communications Coordinator for the Student Success Center at St. Edward's. Soto oversees the Success Center and says that the increase in online classes is "part of a more concentrated effort to grow the offerings" at St. Edward's.
"[St. Edward's] has a lot of interest in meeting students where they are," Soto said.
In the past, online courses were mainly offered for students in the graduate program, but now there is an effort to bolster the number of online courses for undergraduates as well.
The increase in courses is especially being applied to summer courses.
According to Soto, there are currently 30 online courses and 30 on-campus courses offered at St. Edward's during the summer. While the complete list of additional courses hasn't been published yet, students will be able to see the new offerings starting March 2nd, when students will begin creating their schedules for the upcoming semesters.
Dr. Kelley Coblentz Bautch is a professor of religious and theological studies at St. Edward's. She first started teaching online courses last spring and is currently teaching a course. She says that online courses provide students with more options for their education.
"Today's students are technologically savvy and many value flexibility in their schedules, which online courses can facilitate," she says.
In terms of the differences between online courses and in-person courses, Coblentz Bautch says that there are pros and cons.
"While technological challenges or poor internet reception can hamper an online experience, access to high speed internet seems to be improving consistently worldwide and my experience is that we have very good technical support to assist us in online courses," she said. "There are highly trained individuals at St. Edward's University to assist faculty and students with online courses."
She adds that she would like to continue making online classes a better experience for students at St. Edward's.
"I have taught RELS 2322 Introduction to the New Testament and would like to develop other courses in Religious and Theological Studies online. As with an 'in-person class,' I try to find ways to personalize online courses so that students feel that their presence and participation in the course are valued. That focus on the student strikes me as a distinctive aspect of our Holy Cross-infused Mission."
Coblentz Bautch says that she likes to use online classes as an opportunity for specific styles of learning and teaching that work best online.
"I try to take advantage of the online experience, and how technology might complement traditional forms of studies. For example, in an online setting, we can share with one another through various kinds of media aspects of our world. Or, we might have assignments that work especially well with technology," she says.
Soto says that online courses "can be a great way for students to get ahead and meet their graduation timeline," especially for those who changed their majors or added a minor.
St. Edward's also offers courses called "blended courses," which offer an online and in-person experience.
Oscar Sotelo, a senior entrepreneurship major, says that his experiences with online courses have varied drastically.
He has taken two blended courses. In one of them, he felt "uninterested in the content."
"I almost felt that there was no incentive to pay attention," he says.
In the other course, he says his experience has been the opposite.
"I have one of the most engaging, caring, and intelligent instructors that I ever had the pleasure of learning from. He has made the content for the online sessions enjoyable, every second of it. And because of this, we are all learning a great deal from him."
He concludes that the reason for this difference may be difficulties in communication.
"It sometimes may be hard to communicate in the online sessions [due to] technical issues, but that's probably a result of the learning curve that both the students and the university are going through while implementing these new online classes."