Sixth man wins Player of the Week, contributing to No. 7 ranked SEU
On February 17, junior guard Ryan Garza of the No. 7 ranked St. Edward's men's basketball team simultaneously won the Raising Cane's Player of the Week and the athletics department's Hilltopper of the Week. Garza was an outstanding performer and the junior guard averaged 18.0 points over a pair of games that weekend which both resulted in resounding Hilltopper victories.
Garza, a sharp-shooting, 6-foot Edinburg, Texas, native, posted a series of impressive stats in the two home victories that took the Hilltoppers' overall record to 23-2 and completed their regular season undefeated home record. In the first game of the week, a match-up against UT Permian Basin, Garza scored a career-high 24 points as he hit six 3-pointers and shot 70% from the field. Just two days later and in similarly impressive fashion, the guard posted 12 points, two boards, one assist and a steal in a 77-65 triumph against Western New Mexico.
For Garza, it had been a long time coming.
"I went on a cold streak for a while," said Garza. "I wasn't hitting shots for a while and I had some questions to be answered by myself. I wasn't putting in the work and then started putting it in with extra shots every day, working harder in practice and just trying to do the little things well again. I'm just happy that this was the week that it finally started to click before the end of the season."
At the time of winning this award, Garza stands as the team's second-highest three-point scorer but acknowledges that things have been leading up to a weekend such as this one. In fact, he is fully aware of how his role within what has been a constantly improving team since his freshman year in 2017 has changed.
"I think I've just grown physically, mentally and emotionally. I've gone through position changes; I went from point guard to shooting guard, I went from eighth man to sixth man and I even got voted captain this year by my teammates," said Garza.
But this increased responsibility and what some may perceive as pressure is something he clearly relishes. There are goals in place that Garza and those around him are continuously striving towards.
"Hopefully I can continue bringing the energy to my teammates…[Our goal is to] win the Lone Star Conference tournament then maybe host the NCAA tournament and play in front of our home fans, which would be a lot of fun like it was last year."
He continued, "We want to be a great team and we have high goals, we have high aspirations to go far in the national tournament."
However, above all else, the thing that stands out is Garza's humility and willingness to attribute praise to other vital members of the program, rather than dwell on the isolated success of himself or another individual. Success is born out of the team dynamic.
"Coach Cook is a great coach who makes sure to coach you on and off the court, in all aspects of life … I feel like he's taught me to really value the little things and pay attention to every detail and be the best you can be in whatever you do," Garza said.
Coach Cook, who leads passionately from the sidelines, is a driving force behind Garza's motivation to improve and use performances such as these as the start of an assault on the national tournament once again.
The weekend in which Garza shone happened to be Homecoming weekend on the Hilltop, a time for alumni and families to return to campus for celebration and collective nostalgia. For Garza, he was keen to celebrate those who are evidently like family members to him, the outgoing seniors who were celebrated prior to Saturday's win.
"These seniors are probably the most impactful seniors maybe in St. Edward's history. I'm kind of biased because I've played with them but I love all those guys. They really changed this program around with their work ethic, their basketball IQ and their passion for the game. I think they've set the foundation for years to come," said Garza.
In the years that follow this season's climax, Garza will undoubtedly be a vital figure as he heads into his own senior season come the fall. Firstly, however, the Hilltoppers hope to continue making history on the court this time around, and Garza will undoubtedly have a big role to play.
Leave a Comment
About the Contributor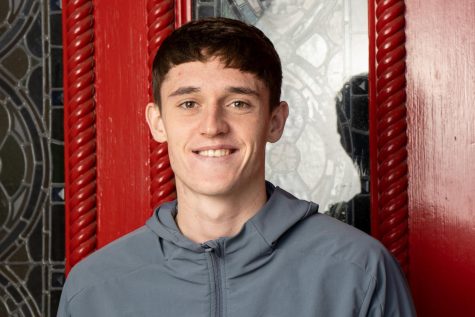 George Murray, Sports Editor
Hi! I am George Murray, one of the Sports Editors at Hilltop Views. I am an english literature major and journalism & digital media minor graduating...