Fury displays undisputed brilliance, confirms heavyweight No. 1 status with dominant rematch victory over Wilder
In an eagerly anticipated rematch between two of the best heavyweight boxers in the world on Feb. 22, Tyson "The Gypsy King" Fury was utterly dominant, eventually taking out Deontay Wilder as the American's corner threw in the towel in the seventh round.
The bout, which took place in Las Vegas' MGM Grand Garden Arena, was a battle for supremacy between Britain and America; a rematch to the memorable draw in New York in December 2018. As soon as "The Gypsy King" entered the arena wearing a robe and crown and carried to the ring on a throne, it felt like a special night was in store. Once he was joined by "The Bronze Bomber" Wilder in the ring, the boxing didn't disappoint. What followed was a fighting masterclass for the ages from Fury, earning him the World Boxing Council heavyweight crown.
From the moment Fury bounced purposefully towards his counterpart at the sound of the first bell, there was a different feel than the first fight. Fury meant business and was set about sticking to his word of a somewhat surprising knockout prediction pre-fight.
His rip-roaring start never slowed, and with two knockdowns on route to a bludgeoning finish 100 seconds into the seventh, Fury claimed technical knockout victory over the previously undefeated Deontay Wilder in humiliating fashion. To many, it proved that "The Gypsy King" may well be in a class of his own. He had nullified the man widely regarded as the hardest-hitting heavyweight since Mike Tyson, simply denying him any room for success as he bore down on him and landed significant blows of his own, time after time. 
As Fury's unanimous victory was confirmed, tributes to an all-time great performance flooded in. The reaction of Ben Davidson — Fury's ex-trainer and the man who was in his corner during the first fight between these two — summed it up succinctly. Davidson tweeted "Nobody tell me Tyson isn't in the all-time heavyweight great list now."
In the immediate aftermath of the fight, as realization kicked in that all of the heavyweight belts now belong to British fighters, Fury was being pushed on his potential next move. Fury has a choice, depending on Wilder's decision to activate the clause in the contract for a third fight. This would mean a purse split of 70/30 in favor of the winner this time around, and a decision needs to be made within 30 days of Saturday.
However, if not, the fight that has been particularly awaited on British shores may come to pass: a title showdown between Fury and the holder of his previously vacated belts, Anthony Joshua. Speaking of the potential for what has long been the sport's most highly-anticipated match-up, Fury acknowledged:
"I've got another old fella across the pond who might want a little tickle. Then that is it then. It's completed. Done."
Fury would undoubtedly enter the fight as favorite, particularly given Joshua's shock loss to Andy Ruiz Jr. in their first fight back in June. What's more, Fury has now dethroned Wladimir Klitschko and Wilder in their own backyards – two heavyweight titans who between them had reigned for 14 years and had 28 successful title defenses. In doing so, Fury became the first boxer to end two 10+ title defense reigns in the history of the sport. This was a historic achievement, leaving Fury now just one step from certified supremacy.
With family and media joining him and his opponent in the ring after the fight, Fury reasserted his simultaneous dominance of the arena and the night one final time by singing American Pie to the 16,000 fans in attendance, many of whom were traveling in his support. 
If nothing else, it continued a tradition he set having serenaded his wife, Paris, in Dusseldorf in 2015, while also confirming his popularity and the completion of a great comeback story. In 2016, Fury decided to vacate his title belts in order to focus on medical treatment and recovery from severe depression and addictions, which he has since talked about as the darkest period of his life in which he attempted suicide. 
Whatever follows, Fury has proven his greatness and become a beacon of hope for those with mental health issues and battling demons of their own. That, arguably, is more impressive than any left hook or jab—worth more than any belt.
Leave a Comment
About the Contributor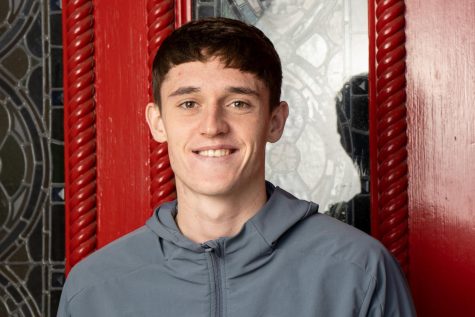 George Murray, Sports Editor
Hi! I am George Murray, one of the Sports Editors at Hilltop Views. I am an english literature major and journalism & digital media minor graduating...