Los Angeles makes effort to mend lasting wounds of drug war
On Feb. 13, Los Angeles District Attorney Jackie Lacey dismissed 66,000 marijuana convictions in the county. The decision came during a national call to undo the harsh disproportional treatment of people of color during the war on drugs. Former President Richard Nixon started the movement in 1971 and it was continued by former President Ronald Regan in 1981 when he switched the focus from treatment to incarceration. 
According to the Los Angeles Times, 62,000 felony convictions dating back to 1961 were dismissed. As a result 22,000 people no longer have felonies on their records in California, and 15,000 no longer have a criminal record at all. Of the 53,000 people who received the relief, 32% are black, 45% are Latino and 20% are white. 
That means 53,000 people will now be able to apply for housing, jobs and schooling. It's a step in the right direction regarding marijuana policy. Hopefully, other counties and states will follow Lacey's path and continue to dismiss marijuana convictions. California was the first state to legalize medical marijuana but is one of the most recent states, as of the 2016 election, to legalize recreational marijuana. 
Many of the laws of the already fully legal states include language that moves towards finding ways to dismiss marijuana convictions of people's records. This is a national effort to dismiss marijuana convictions off records. California is the first state to do so but others should follow after. 
There is a growing trend toward national legalization. Only nine states are left where marijuana is fully illegal, according to DISA. Texas has inched forward, now allowing CBD oil for medical treatment in five other states. An additional nine states have only legalized marijuana for medical use. In eleven states, including California, are fully legal. 
As we get closer to November, many states will include some sort of marijuana legalization on their ballots. Texas is not one of those states. 
These states will decide the future of marijuana legislation in the country. There are states in this year's election that will decide on either medical or recreational marijuana. Even this past week showed progress in Virginia and Alabama on Marijuana legislation. 
The country is moving closer and closer to full legalization for marijuana. States like Colorado and California are leading the charge on correcting the harm done from the war on drugs. Texas and other states that drag their heels in the mud need to get on board. More and more states that legalize marijuana will dismiss marijuana convictions off records. It's a step in the right direction. 
The war on drugs terrorized the African American community in this country. While African Americans and whites used marijuana at the same rate, African Americans are almost four times more likely to be arrested for marijuana possession according to the ACLU. Most of the arrests have been individuals with small amounts on them. 
In January, Austin City Council approved a measure for the Austin Police Department to stop issuing fines or require court dates for low-level marijuana possession. A low-level possession is a person who is found with four or fewer ounces of weed. Even in Austin, of the 432 marijuana citations issued in 2019, 201 were issued to Hispanics and 163 to African Americans, making up 84% of all citations.
Marijuana legalization will continue and grow in the United States whether conservative states, like Texas, like it or not. It's time for those wrongfully treated in the war on drugs to get the treatment they deserve and receive an apology.
Leave a Comment
About the Contributor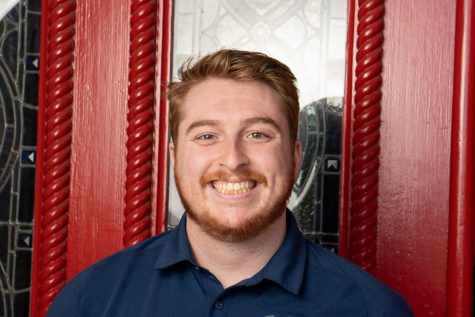 John Walker, Life and Arts Editor
MY name is John Walker, and I am one of the Life and Arts Section Editors. I'm a senior Communication major and journalism minor from Los Angeles, California....