SafeWalk SEU program creates new option for student safety
In early December, the #YourMoveSEU movement brought together students and the St. Edward's University administration to discuss safety and sexual assault on campus. Of the many policy changes that the initiative brought to the university, there was one new program that was created to help students get around campus safely. 
The SafeWalk SEU program is a student-run service that provides golf cart rides to students, faculty and staff at night. The program runs from 8:00 p.m. to 12:30 a.m. and includes picking up and dropping off anyone around campus.
"What we want to offer with this program is for students to know that they have a right to feel safe and we offer resources for that," stated Lauren Louk, founder of the SafeWalk SEU. 
The campus is notoriously dark after the sun goes down. While improvements have been made to make campus easier to navigate at night, there are still fears of walking around campus at night. 
"It does kind of get scary especially as a young female. Especially walking from the garage to Pavilions it does get dark and a little scary," said Priscilla Stevenson, a SafeWalk SEU dispatcher. "I feel like it was an awesome program that's always been needed on campus, because UPD, there's only so many of them that late at night." 
The St. Edward's University Police Department continues to offer an escort service as well, but SafeWalk SEU offers an alternative of calling an officer. 
"Is it easier for people to talk to students rather than calling UPD just because a lot of people have apprehension about doing that; I mean I do as well," Louk said. "We offer the service and UPD does as well, but it's easier for students to call another student and have a student come get them. We just offer a less abrasive way of doing that."
Students go through extensive training to volunteer for SafeWalk SEU. They receive situational awareness training, inclusive language for survivors. Volunteers must also pass a background check, provide fingerprints, and need to be in good standing with the university. 
"What we want to offer with this program is for students to know that they have a right to feel safe and we offer resources for that," Louk said. 
Currently, SafeWalk SEU has a pool of 26 volunteers who have undergone extensive training and background checks. There have been 16 active volunteers who regularly volunteered during the soft opening of this brand new on-campus service.
"I knew if we offered this as a volunteer opportunity students would step up, because that's what students do here at St. Edward's, we take care of each other," Louk said. "Once we got the word out we realized that there was a want for this and a need for this, and people signed up."
Leave a Comment
About the Contributor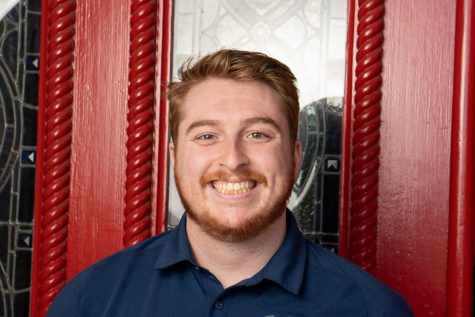 John Walker, Life and Arts Editor
MY name is John Walker, and I am one of the Life and Arts Section Editors. I'm a senior Communication major and journalism minor from Los Angeles, California....