St. Edward's archivist gives tips on archival research for faculty and students
March 2 sparked Research Week at St. Edward's, a time for faculty to expand on their research, learn new ways of going about research and showcase their own published work.
While it is often overlooked, the archive section at St. Edward's serves as a big part of research. Located in the Munday Library, St. Edward's is home to many archives and older published works. Librarians and archivists Austin-wide often work together to pinpoint the best references for students, faculty and everyone in between. 
Overseeing these archives is Travis Williams, the Archive and Special Collections Librarian for Munday Library. On Mar. 6, Williams hosted an "Intro to Archival Research" presentation and discussion in the Tocker Reading Room. Williams administered and answered all questions from those who attended.  
The discussion revolved around the current services and collections offered to students and faculty to assist with their research. The collections are easily accessible through the Munday Library website, or by appointment which can be made online, with meetings held in the Tocker Reading Room (room 113). 
With a wide range to search through, the Archives and Special Collections sector offers  three repositories: University Archives, Moreau Province Archives as well as a collection of manuscripts. Collections range from the Alumni Newsletters, a syllabi and senior thesis collection, and the university fact book. Collections like the Aldelbert's Brewery Collection are offered in digital and print form, as well as physical artifacts. 
While some professors use the archives for their own research, others are trying to figure out how to digitize and archive their own findings to make it more accessible for students. "To do such, one must apply for a grant," Williams said.
A bigger part of the conversation was the issue of older texts which include now-offensive terms to certain communities. Nicole Oglesby, the Public Services and Outreach Librarian at the Munday Library, asked, "On the histories of queers and women and how they're not recorded correctly, in a social justice space, what are we doing to overcome those challenges?"
Williams responded saying, "That's an issue, and I think it's great we're now talking about it and making sure those organizations are being represented correctly in archives."
According to Williams, another challenge affecting research archives is some content being under-described or completely hidden. "Every archive is understaffed, underfunded, making it hard to tease out the societal and cultural changes of those archives," Williams explained. Simply changing the subject terms can be a step forward in resolving that problem. The Library of Congress is the first to successfully attempt this by changing offensive terms.
Like many students who do not know the next step when following their  interest, Williams shared his own experience with his interest in film. He was told about a film panel during an interview in relation to archival studies. His interest eventually landed him a spot on the panel, led by a man from Princeton University.
Williams offered guidance in the archival system for students like Murphy Chen, who is from China and interested in Chinese culture and cross-continental research. 
Chen asked Williams, "What do you suggest for students wanting to be a pioneer of something [undiscovered]?" "Talk to as many people as you can and find mentors who have done similar research," Williams said.  
Leave a Comment
About the Contributor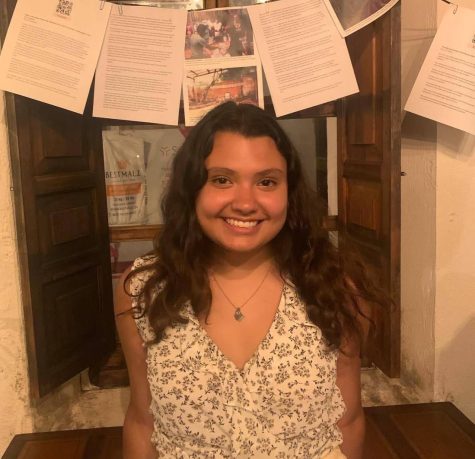 Nina Martinez, Copy Editor
Nina Martinez is a senior at St. Edward's University, earning her Bachelor's in Writing and Rhetoric. Martinez has reported and edited for Hilltop...