Former Eagles quarterback Carson Wentz is headed to Indianapolis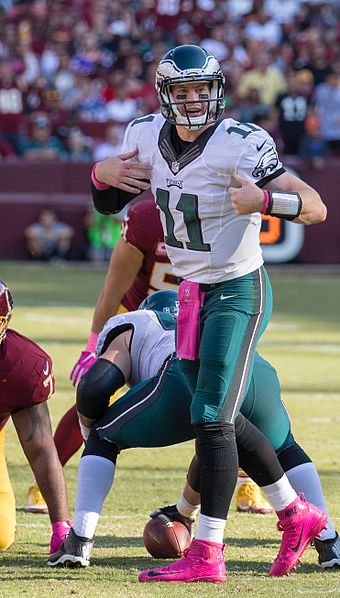 After three weeks of negotiations, the Philadelphia Eagles and the Indianapolis Colts have finally agreed on a trade involving quarterback Carson Wentz. The Eagles will be shipping their former franchise quarterback to the Colts, in exchange for the 85th overall pick in this year's 2021 NFL draft and a conditional second-round pick in next year's 2022 draft. Although both sides have come to an agreement, the trade cannot be officially processed until the new NFL year begins on March 17.
After five seasons in Philadelphia, Carson Wentz is moving on just two years after signing a long-term contract with the Eagles. In 2016, the Eagles traded up in the draft to select Wentz with the number two pick, solidifying him as their quarterback for the foreseeable future. During his five seasons as the Eagles quarterback, his best season by far was in 2017. Wentz led the Eagles to an 11-2 record before he tore his ACL, which left him sidelined for the rest of the season. Before his injury, Wentz was seen as the season's MVP front-runner but would wind up losing to Tom Brady. The Eagles would win their first-ever Super Bowl that season, but following his injury, Wentz struggled to repeat the success he had during the 2017 season.
Even though Wentz would have good seasons in 2018 and 2019, he would eventually lose his starting job and the organization's confidence in 2020. This past season, Wentz tossed 14 interceptions and just 16 touchdown passes. Finally, in week 13, the Eagles decided to bench Wentz in favor of rookie Jalen Hurts. Wentz finished the 2020 season with a record of 3-8-1. 
Now, Wentz looks forward to a fresh start in Indianapolis with his old offensive coordinator, Frank Reich, as his new head coach. Reich was Wentz's coordinator during his best season in 2017, and the Colts hope Reich's relationship with Wentz can help the latter get back to his old self. 
While the Colts have their quarterback room all set for the 2021 season, the Eagles are expected to bring in another quarterback to compete with Hurts for the starting job. Hurts started the last four games for the Eagles, and he went just 1-3 in those four starts. Hurts threw just six touchdowns and four interceptions in those four starts. It's unclear if the Eagles will select a quarterback with their sixth pick in this year's draft, or if they will trade for one during the offseason, but one thing that's for sure is Philadelphia will have a new starting quarterback under center for the first time in five years. 
Leave a Comment