Museum of the Future Present combines art and music, creates unique, mind-bending gallery
An immersive, musically charged vibe chamber, the Museum of the Future Present is located  East 4th Street inside of Native Hostel. Musicians and artists collaborated to create the psychedelic installations inside the museum. 
Mary, the manager of Native Hostel, shared how artists wanted to continue creating during the pandemic, even though performing was not an option. That's when musicians and artists banned together to work with different mediums and create a gallery that was inspired by music. 
Completely dark, the space allows the pieces from the installations to show you the way. Projected images and videos combine with mirrors, LED lights, props and household items to create a wonderland of a gallery.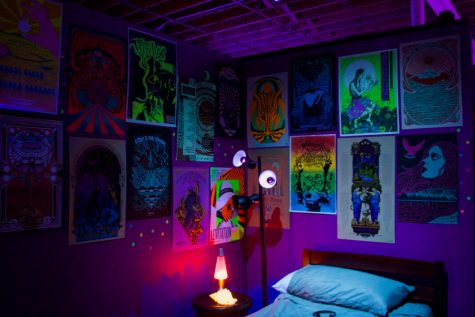 The first installation is a trippy bedroom with neon posters plastered on the wall and a walkman lying on the bed. The walkman is next to a CD case that has a playlist containing the name and creators of each song. All of the installations are labelled "track 1-17", and are meant to "bridge the gap between music and the viewer." 
The labels also have messages from the artists and give clue to what inspired each piece. The installations could be songs in a physical form, and the places music takes the listener. Designed as an experimental gallery, the pieces are open to interpretation. The space is a dreamy experience that has tons of picture-worthy installations.
Some of the displays even have chairs to encourage the audience to sit and pose with the art. A few installations are interactive, letting the viewer become a part of the piece.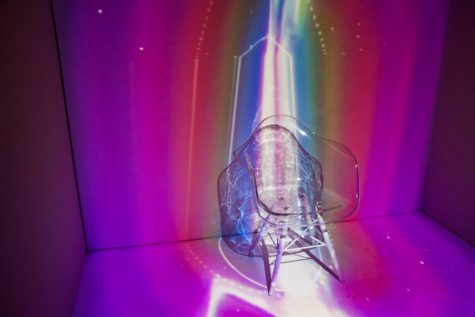 One of those displays is the "The Cryptochrome Chamber": a shower of long, translucent material described as the "quantum energy activation chamber." It encourages audience members to step inside, take a photo and bask in its glory. The "Neon Church" is composed of a piano, mirror and lights that resemble a chapel. It describes itself as "a place in your head that feels like heaven," and encourages its audience to sit and play a few chords. "Dreaming the Cube" has its own enclosed room inside of the gallery. It features ambient music, four walls and a projection of patterns across the wall. Its label reads: "A tangled hierarchy, moving from one loop to another, and finding yourself back where you started."
Museum of the Future Present is a fun, mind-bending experience that will have you lost inside of its art. It features beloved creators,  Hannibal Buress, Shabazz Palaces, Strangeloop and many others. It's really interesting to see artists take on a different medium, play with materials and relate it all back to music. Austinites should definitely check out the museum alone or with a few friends. 
Museum of the Future Present will be at Native Hostel until the end of the year, rotating creators throughout its time in Austin.
Leave a Comment